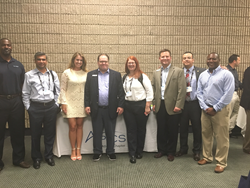 GMA, APICS and RISE Against Hunger is a powerful combination.
Atlanta, GA (PRWEB) July 31, 2017
Leaders in the Metro Atlanta manufacturing and supply chain community will combine forces for the fight against global hunger on September 12, 2017 at the Georgia Tech Hotel and Conference Center. APICS Atlanta and the Georgia Manufacturing Alliance have partnered with Rise Against Hunger to conduct a meal-building operation. During this event, their target is to pack over 5,000 meals that will be distributed to those in need around the globe.
Founded in 1998 by Ray Buchanan, Rise Against Hunger's mission is to end hunger in our lifetime by providing food and life-changing aid to the world's most vulnerable people. They support safety net programs that provide nourishment as well as additional skills training or services that support the difficult journey out of poverty. Their volunteer-packaged meals support children's attendance at school, incentivize adults to learn a new trade, or bolster a patients' health to bring about transformational development in each of their lives.
"One of the biggest reasons that APICS Atlanta exists is to serve our community," said Scott Luton, APICS Atlanta Chapter Executive Vice President. "Our Chapter is very pleased to be partnering once again with the Georgia Manufacturing Alliance and a variety of leading organizations in Atlanta to serve Rise Against Hunger and its mission to eradicate global hunger."
APICS Atlanta is a nonprofit organization that serves as the premier professional association for supply chain management and is the leading provider of research, education and certification programs that elevate supply chain performance.
The Rise Against Hunger event will be held from 5:30pm to 9 pm on September 12, 2017 at the Georgia Tech Hotel & Conference Center. There is no charge to attend and any funds raised will be used to offset the costs of the supplies and event set up. For more info, please contact Scott Luton at 678-296-5268 or email evp(at)apicsatlanta(dot)org.
"We are excited to partner with APICS on this project," said Jason Moss CEO of the Georgia Manufacturing Alliance. "Ending hunger by 2030 is a noble goal. We are looking forward to bringing more awareness to this organization. GMA, APICS and RISE Against Hunger is a powerful combination," added Moss.
About the Georgia Manufacturing Alliance:
The Georgia Manufacturing Alliance (GMA) is a membership-based industry organization founded in 2008 to support Georgia's manufacturing community. GMA provides monthly plant tours, educational sessions, tradeshows, and unique networking opportunities designed to help make profitable business connections for its members. The Georgia Manufacturing Directory, Georgia Manufacturing Summit, Georgia Manufacturing Calendar, and Georgia Manufacturing Job Board are additional resources produced by GMA. To learn more about the organization, membership, and upcoming events, please call 770-338-0051 or visit their website at http://www.GeorgiaManufacturingAlliance.com.