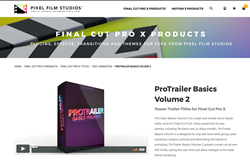 This is a great new Trailer for Final Cut Pro X.
Aliso Viejo, CA (PRWEB) July 28, 2017
ProTrailer Basics Volume 2 is a clean and simple set of teaser trailer tools for Final Cut ProX. Every preset has its own identity, including flat basic text, to shiny metallic. ProTrailer Basics Volume 2 is designed for any skill level while giving users numerous creative controls and eliminating the hassle of animating. ProTrailer Basics Volume 2 presets contain an all-new edit mode, saving the user time and allows changes to be made before rendering.
ProTrailer Basics Volume 2 includes 30 presets for users to select. Each preset includes fully editable text utilizing the full FCPX 3D text capabilities. FCPX users can change colors, edges, reflections and much more. Every preset works with any font file, in result adding more versatility.
ProTrailer Basics Volume 2 eliminates the hassle of animating and custom key-framing. By simply setting the three different camera positions using the custom edit mode feature included in each preset, the camera will move in real-time. The Edit Mode function allows the user to see how the camera will move before rendering. This tool is a visual-aid which allows changes to be made before rendering, therefore saving time. Every preset includes numerous intro and exit animations for 3D Titles and Subtitles.
Final Cut users control the shadows and highlights within each preset. Editors can add and adjust reflections, further enhancing the style. In addition to text controls, floors can be added. Users can also adjust the floor shadows and reflections. ProTrailer Basics Volume 2 controls are located in the inspector window for quick and effective editing.
ProTrailer Basics Volume 2 is an FCPX Generator tool. FCPX users simply select the preset the want to use, and modify it using the published controls. Final Cut users can find all of the controls in the inspector window. ProTrailer Basics Volume 2 utilizes all of the FCPX 3D text controls, allowing the user to fully edit each title. This ProTrailer is easy to use and designed for every skill level FCPX user.
Established in 2006, Aliso Viejo, California-based Pixel Film Studios is an innovative developer of visual effects tools for the post-production and broadcast community. Their products are integrated with popular non-linear editing and compositing products from Apple FCPX. Apple, the Apple logo, Mac OS X, and Macintosh are registered trademarks of Apple Inc. in the U.S. and/or other countries. All other trademarks and trade names are the property of their respective owners.