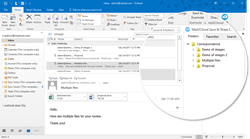 Email is important content. Being able to easily save and manage it in the cloud is critical for many businesses.
San Francisco, CA (PRWEB) July 31, 2017
Leading email and cloud storage convergence technology company, MxHero, has released an important update to its MS Outlook client. The new version allows users to simply drag and drop email messages directly into their cloud storage folders without leaving Outlook. The process saves both the email message and any attachments. Once in cloud storage, the email content can benefit from powerful cloud storage features, such as, collaboration and security.
The MxHero client for Outlook helps users to manage their email content much like they do documents. MxHero automatically converts the email message into a searchable PDF document and conveniently links any attachments directly from the PDF. In PDF form, important correspondence can be saved and managed alongside other content in the cloud. Contacts are agreed upon, projects modified, budgets extended, usually through email. By preserving the message content, organizations are able to efficiently search the email record whether to meet compliance or manage customer relationships.
"Most of our customers are already using cloud storage services to manage their document content, so it makes sense for them to manage their email content as well in the same cloud. We're pleased to be a part of making that process easier," says Alex Panagides, CEO, mxHero Inc.
The mxHero Outlook client integrates with leading cloud content management services, such as, Box, Egnyte, Sharefile, and OneDrive. More information on the new mxHero Outlook client is available from the mxHero website at http://mxhero.com/ss.
About mxHero
MxHero builds powerful cloud and hybrid platforms for Enterprise & SMB, enabling email systems to leverage modern cloud storage benefits and gain user productivity across all user devices. The Mail2Cloud platform delivers compelling ROIs in storage costs, collaboration, productivity and security and includes an intelligent, customizable engine for advanced automation. Mail2Cloud is commercially proven across Microsoft Office 365, Exchange, and Gmail, over all mobile device platforms and cloud storage systems including Box, Egnyte, Citrix, OneDrive etc.