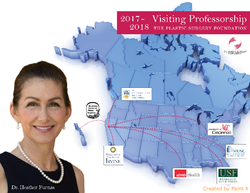 Santa Rosa, CA (PRWEB) July 29, 2017
Heather Furnas, MD, is proud to announce that she will be one of the Plastic Surgery Foundation (PSF) Visiting Professors for 2017-2018. This outstanding group of plastic surgeons will travel the United States, sharing their expertise and knowledge with Residents at some the nation's best medical schools. Dr. Furnas is among eight of the country's leading plastic surgeons to participate in the elite program this academic year.
The PSF Visiting Professors program began in 1979, with a single plastic surgeon. Today, the PSF Visiting Professors Committee selects eight outstanding plastic surgeons, from a large pool of experienced applicants. As a whole, the selected group of Visiting Professors all have exceptional backgrounds in plastic surgery, three of whom are experienced in cosmetic surgery and at least two are women.
Residents in plastic surgery training programs benefit from the varied backgrounds and vast wealth of knowledge each of the Visiting Professors bring. Aside from years of surgical skill and patient experience, the Visiting Professors offer unique and innovative perspectives on plastic surgery that Residents would not otherwise receive during their training. Each school visit will typically involve two days of lectures, discussion groups, patient evaluations and rounds.
Throughout the upcoming year, Dr. Furnas is scheduled to present at seven schools. These include the University of Texas Medical Branch - Galveston, the University of British Columbia, the Northwest Society of Plastic Surgeons, the University of Cincinnati, the Medical University of South Carolina, and University of Southern Florida. Dr. Dr. Furnas will present on a variety of topics within her field of expertise, including female genital plastic surgery, what residents should know about the job search and business aspects of plastic surgery, and gender differences among plastic surgeons.
An alumnus of UCLA School of Medicine and Stanford University, Dr. Furnas is board certified by the American Board of Plastic Surgery. In 1991, along with her husband, Francisco Canales, MD, Dr. Furnas founded Plastic Surgery Associates in Sonoma County. An avid researcher, writer and educator, Dr. Furnas is routinely asked to present at plastic surgery conferences around the world. At the 2017 Aesthetics Meeting in San Diego, Dr. Furnas was presented with the Tiffany Award for the Best Scientific Presentation, Why Patients Request Labiaplasty.
More information on the PSF Visiting Professors can be found at the Plastic Surgery Foundation website, including details on applying for visits during in the upcoming academic year. Find out more on Dr. Heather Furnas by contacting Plastic Surgery Associates at 707.537.2111. Consultations can be made with Dr. Furnas or Dr. Canales at either of the Plastic Surgery Associates offices, located in beautiful Santa Rosa and Novato, California.