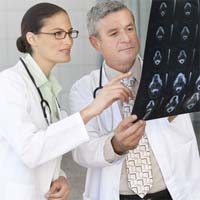 Radiotherapy was associated with increased mesothelioma risk, especially in lymphoma patients diagnosed before 1995...
Raleigh, NC (PRWEB) July 31, 2017
Scientists in California and New York have released a new report that points to an elevated risk for deadly malignant mesothelioma among people who have had radiotherapy for lymphoma. Surviving Mesothelioma has the full story. Click here to read it now.
Researchers at Stanford Cancer Center and scientific consulting firm Exponent, Inc., analyzed the extensive US Surveillance, Epidemiology and End Results (SEER) database to find people who had received radiation for either Hodgkin's or non-Hodgkin's lymphoma between 1973 and 2014.
"After multivariate adjustment, radiotherapy was associated with increased mesothelioma risk, especially in lymphoma patients diagnosed before 1995 and after a latency of at least 10 years, and apparently with younger age at diagnosis," writes lead author Ellen Chang with Exponent.
According to the new report in Cancer Causes and Control, 28 of the lymphoma patients who had undergone radiotherapy eventually developed mesothelioma.
"Although mesothelioma is typically associated with exposure to asbestos, this study is a reminder that there are other risk factors to be aware of and a history of radiotherapy is one of them," says Alex Strauss, Managing Editor for Surviving Mesothelioma.
For a better understanding of the mesothelioma risk associated with previous radiotherapy, see Radiotherapy for Lymphoma as a Risk Factor for Malignant Mesothelioma, now available on the Surviving Mesothelioma website.
Chang, ET, et al, "Therapeutic radiation for lymphoma and risk of second primary malignant mesothelioma", July 28, 2017, Cancer Causes and Control, Epub ahead of print, https://link.springer.com/article/10.1007/s10552-017-0929-4
For more than a decade, Surviving Mesothelioma has brought readers the most important and ground-breaking news on the causes, diagnosis and treatment of mesothelioma. All Surviving Mesothelioma news is gathered and reported directly from the peer-reviewed medical literature. Written for patients and their loved ones, Surviving Mesothelioma news helps families make more informed decisions.