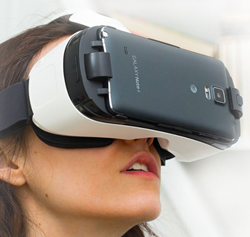 Can you imagine being able to see your children's or grandchildren's faces again?
Fort Lauderdale, FL (PRWEB) July 31, 2017
Better vision may be within your reach! New technology from IrisVision is being called the most effective and affordable solution for Macular Degeneration, Retinitis Pigmentosa, Glaucoma, and other eye diseases.
IrisVision is a wearable headset device that allows those with low vision to see the world like they've never seen it before. For millions, this means bringing the once blurry, lost details of life, back into focus.
Lesa Kretschmer, Founder and CEO of Florida Vision Technology, has been testing the new device and is recommending it to many of her clients with low vision. Florida Vision Technology has the IrisVision on display for clients to try on and experience first-hand.
IrisVision worked with tech powerhouse Samsung to create the headset that boasts a 16 MP camera, a 70° field of view, and a screen that displays 10X more pixels per inch than your HD TV. The headset offers magnification where it's needed while maintaining a broad field of view.
Kretschmer adds, "It's super easy to use. IrisVision did a great job keeping the design simple with just a few buttons and a finger-swipe for zooming in and out. Users can easily toggle between the live mode and the reading mode with the push of a button."
"What I especially like about this device, is the flexibility to be able to see at different distances. The user can be reading a book up close, then look across the room at family members or a show on TV. The camera focuses automatically," says Kretschmer.
Kretschmer believes that the IrisVision can empower many to enjoy the activities they once loved. "Can you imagine being able to see your children's or grandchildren's faces again? Or going to the movies with friends and family? Seeing a play? Or taking a trip to the art museum?" Kretschmer asks.
At Florida Vision Technology, Kretschmer and her team offer personalized service and one-on-one product demonstrations to make sure each client has the best solution for their vision and lifestyle. Kretschmer states, "The IrisVision has many adjustable settings including contrast, ambient levels, and interpupilar distance, so we make sure the device is custom fit to each person".
Part of Florida Vision Technology's mission is to keep customers up-to-date on the newest break-through products. To learn more about IrisVision, connect with Lesa Kretschmer and Florida Vision Technology by calling 1-800-981-5119. For an IrisVision product demonstration, stop by the store at 650 N. Andrews Avenue, Ft. Lauderdale, FL 33311. Like what they are doing? Visit their Facebook page at facebook.com/FloridaReading.
About Florida Vision Technology
Lesa Kretschmer, Founder and CEO, has worked in the blindness and low vision industry for more than 23 years. She is committed to placing the best adaptive technology and products available today within reach of blind and visually challenged people of all ages and walks of life. Located at 650 N Andrews Ave, Fort Lauderdale, FL 33311, inside the Lighthouse of Broward.