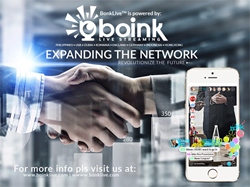 (PRWEB) July 31, 2017
Every generation and especially teens have always craved time with their friends. But with a smartphone in hand teenagers went wild today downloading BonkLive, a new mobile broadcasting application. BonkLive went live in the apple store today forever changing the way people will communicate and view live entertainment. Social media has changed in this millennium. Instead of kids talking, they text. Instead of kids texting, they send an emoji. And now BonkLive's Mobile Application, which was designed to do it all, has launched the latest in social video-chatting and live video-streaming.
Kids don't have to settle for sending static images and words like with Facebook, Instagram, and so many others. They can watch, create, and share video – preferably live video on BonkLive Mobile broadcasting. BonkLive is authentic and extemporaneous, but it's also the closest thing to hanging out with a person or with friends and family. BonkLive is as futuristic as you can get and the currently a one of a kind mobile application.
So, what is the Bonk Live Mobile application that is taking kids by storm? Live video-streaming on BonkLive is like watching live TV or becoming a star of your own TV show. Users simply download the free BonkLive application and start having fun while making money using the new BonkLive broadcasting app. Live mobile Broadcasters simply aim the camera on themselves and broadcast to whoever is following them on the app. Social video-chatting is similar to video-chat apps such as FaceTime or Skype, but with Bonk live it's done with lots of people and the streamers make money doing it.
While BonkLive mobile Application taps into teens. The effect BonkLive has is that both young and old broadcasters have a natural desire to connect, relate, and belong. BonkLive streaming even has its own unique culture. Just as people have become famous on YouTube, there are live streaming stars emerging as Bonkified influencers. Adults and kids tune in to watch them, follow them, and even buy them "gifts," which are basically online donations. In other words, kids are making money and getting famous just by hosting live streams of themselves. Hollywood celebrities are even in on the trend, and live streams can be a great source of on-the-spot news and real-time participation in important events.
BonkLive allows you to see your friends. Instead of hanging out at someone's house after school, teens can go into their rooms, close the door, and hang out on their phones all while streaming live on BonkLive Mobile applications. Up to eight people can be on a call at once, and groups can lock their chats so others can't join. If a friend of a friend joins, users get a notification, which lets them jump off the call if they want.
BonkLIve Not only lets you have a live video chat with your friends, but you also can easily search for and share videos and music right from the app. Through settings, teens have control over access to the "rooms" they create, keeping them totally private, requiring access requests, or limiting access to friends of friends. There's no mystery why teens love BonkLive, since sharing music and funny videos in real time are really fun.
BonkLive is available now in the Apple Store, Google Play Store, and is available for all smartphones including Android and IOS. BonkLive, has created a new Super streaming application concept that will earn the company and its pioneer shareholders billions of dollars. Bonk Live TM will be easy to use and free to download. The money derived from Bonk Live super streaming application will be earned through advertising, virtual gifts, credit and debit card fees and a unique payment system for pay per push advertisers.
This press release contains forward-looking information within the meaning of Section 27A of the Securities Act of the 1933 and Section 21E of the Securities Exchange Act of 1934 and is subject to the safe harbor created by those sections