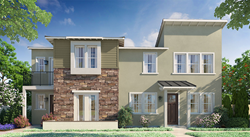 The lifestyle envisioned for this final phase at Esencia will be active and engaging, with an exciting mix of social spaces and live-work-play opportunities just a short walk away.
San Juan Capistrano, CA (PRWEB) August 01, 2017
Backed by robust home sales, five leading homebuilders have been selected for the final nine intergenerational residential neighborhoods now under construction at Esencia, the award-winning, mixed-use, hillside village on the 14,000-home Rancho Mission Viejo community in scenic South Orange County, CA.
Esencia encompasses approximately 890 acres along some of the highest elevations of Rancho Mission Viejo (The Ranch). The neighborhoods at Esencia are currently offered in two different neighborhood collections. At build-out, Esencia is expected to include up to 2,470 attached and detached homes for buyers of all ages and life stages, including non-gated "Gavilan" neighborhoods of primarily single-level homes exclusive to those age 55-plus.
According to Rancho Mission Viejo, LLC President and Chief Operating Officer Don Vodra, the homebuilders selected for the third collection of neighborhoods at Esencia include CalAtlantic Homes, Meritage Homes, Pulte Homes, William Lyon Homes, and, making its debut on The Ranch, The New Home Company.
"We are very pleased to announce the neighborhood builder team for what will be the final collection of residential neighborhoods at Esencia," said Vodra. "Known as The NorthWalk Neighborhoods, this collection of nine neighborhoods will include 752 attached and detached homes, with many showcasing our new California Progressive architectural design and featuring interiors ranging from 700 to nearly 4,500 square feet. The neighborhoods are slated to begin debuting in phased increments this fall. Plus, construction has already begun on the exciting offering of 'all-age' social and recreational amenities planned for The NorthWalk Neighborhoods, with each designed to appeal to a broad array of homebuyers including on-the-go Millennials."
Vodra added that in less than two years, nearly 900 homes have sold at Esencia's two existing neighborhood collections, exceeding initial sales projections. Now selling at Esencia are the remaining larger lot family-sized homes within The Canyon House Neighborhoods as well as the Napa-inspired attached and detached homes of The Hilltop Neighborhoods, oriented toward the new Hilltop Club recreational amenity with its open air work-out space, fitness center, swimming pool and spa, classic gaming arcade, bar with lounge seating, and large event lawn with an outdoor barbeque pavilion and bocce ball court.
Named for its location along the northern-most point of Esencia, the new NorthWalk Neighborhoods will offer backcountry panoramas and walkable pathways linking neighborhoods to The Backyard, a new 5.5-acre linear park dotted with an eclectic mix of amenities including a zip line, outdoor lounge with seasonal and special event bar, backyard tool-sharing shed, children's play yard, and so much more. In addition, NorthWalk is planned to include a sports park with multiple athletic fields as well as an approximately 50-acre commercial center with retail shops and services, restaurants, and professional and medical offices.
"As with each of our neighborhood collections, The NorthWalk Neighborhoods will establish a new model for mixed-use intergenerational living, uniting people around common interests and shared abilities," said Vodra. "The lifestyle envisioned for this final phase at Esencia will be active and engaging, with an exciting mix of social spaces and live-work-play opportunities just a short walk away."
The amenities of The NorthWalk Neighborhoods will join a long list of recreational and social facilities already open for Rancho Mission Viejo residents to enjoy including clubhouses, swimming pools and spas, community farms, water splash zones, picnic/grilling pavilions and event rooms with kitchens, a fully equipped fitness center, seasonal/special event bars, an adventure play park, miles of multi-use trails, tot lots, bocce ball and pickle ball courts, fire pits, a putting green, gardens and patio gathering places, a scenic oak canyon preserve to traverse, and even the welcoming Canyon Coffee coffeehouse serving Peet's Coffees and Teas.
Plus, construction of Esencia K-8 school is currently underway at Esencia. Esencia K-8 will serve students kindergarten to eighth grade residing in the villages of Sendero and Esencia. Part of the acclaimed Capistrano Unified School District (CUSD) and slated to open for instruction in August 2018, Esencia K-8 will be the first school built on The Ranch and will be adjacent to The Pavilion. Now also under construction, The Pavilion is planned as an expansive, shared-use recreational area highlighted by a fully equipped gymnasium with regulation-sized basketball courts and stadium seating for 300 as well as adjoining athletic fields for softball and soccer use.
As the largest new master-planned community in California, Rancho Mission Viejo is envisioned to ultimately provide approximately 14,000 homes (including up to 6,000 homes in Gavilan neighborhoods exclusive to residents age 55-plus). In addition,The Ranch is expected to include up to five million square feet of non-residential uses and additional sites for more schools, parks and recreational facilities, essential services, and a network of trails and roadways linking the multiple villages planned for The Ranch.
At completion, the villages on Rancho Mission Viejo will occupy approximately 6,000 acres or 25% of the historic 23,000-acre Rancho Mission Viejo, Orange County's last working ranch which has been held in the O'Neill/Moiso family since 1882. About 17,000 acres, or 75% of The Ranch, will be preserved for ranching, farming and the phased formation of a large habitat conservation area known as The Reserve at Rancho Mission Viejo.
To learn more, visit http://www.RanchoMissionViejo.com or visit the Esencia Visitors Center located within The Canyon House Neighborhoods at Esencia.