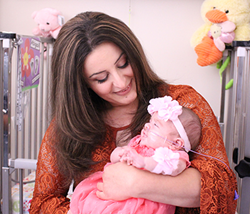 "At UC Davis they were so good taking care of me. All of this group of people provided such great support for me like a family. My whole life is thankful to them for what they did for me. And God blessed them to do a good job."
Sacramento, CA (PRWEB) August 03, 2017
During Karine Petrosyan's pregnancy, she developed a series of very rare and serious conditions, which threatened both her and her baby's life.
Her placenta began growing through the wall of her uterus and had attached to her bladder in a condition called placenta percreta. She was also diagnosed with placenta previa, in which her placenta obstructed the birth canal.
Add to that one more complication: Her water broke when she was only 24 weeks' pregnant, due to preterm premature rupture of the membranes, which occurs in 3 percent of pregnancies.
A plan was needed – and fast.
Five surgical teams at UC Davis – obstetrics and gynecology, gynecologic oncology, vascular surgery, trauma and acute care surgery, and urology – met with Petrosyan and planned the complex operation to save mother and baby. Physicians would deliver her baby by cesarean section and then remove Petrosyan's uterus in a procedure known as a cesarean hysterectomy.
But the biggest and most common risk of this procedure is blood loss. Petrosyan, a practicing Jehovah's Witness, refused any blood transfusions due to her religious beliefs so the team needed to find a solution that wouldn't require blood transfusion.
UC Davis has been a leader in bloodless surgery for heart surgery patients and is one of the leading centers to use TXA (tranexamic acid) to prevent blood loss. But this was an opportunity for the UC Davis team to leverage its expertise and apply it to obstetrics.
The answer -- their only chance -- came in the form of a device called an ER-REBOA catheter, which looks like a small plastic tube with a balloon attached to it.
From war zones to surgical settings
The ER-REBOA is an intra-operative balloon occlusion device developed by the U.S. Air Force as an internal tourniquet to stop major intra-abdominal and pelvic bleeding in war zones in Iraq and Afghanistan. It was approved for non-military use by the U.S. Food and Drug Administration in 2015. UC Davis was the first west coast training site for REBOA (Resuscitative Endovascular Balloon Occlusion of the Aorta) for trauma.
The application of this device to limit blood loss during cesarean hysterectomy for placenta percreta had only been reported in a handful of cases, mostly from China, but UC Davis surgeons would be the first to adopt this technology in the U.S.
The device was reportedly used to limit blood loss during cesarean hysterectomy for placenta percreta in a handful of cases, mostly from China, but UC Davis surgeons would be the first to adopt this technology domestically.
Still, the odds were against them.
Petrosyan had an 80 to nearly 100 percent chance of death from the planned procedure. The risk for hemorrhaging was quoted as 130 times higher than if she accepted blood transfusions.
"There was no guarantee that I was going to live. But the team respected my wishes for no blood," said Petrosyan. "People treated me so well. It was such a huge difference to me. I felt supported. I felt compassion. I was moved by their response."
Petrosyan said that when she went into surgery, she didn't say her final goodbyes. She said that "she trusted the Lord and felt like God's hand was on her back" during the procedure.
A multi-disciplinary team
A team of more than 20 people, led by UC Davis gynecology oncology surgeon Vanessa Kennedy – coincidentally an entire intra-operative team comprised of only women – orchestrated this difficult and complex delivery on March 15.
The team used a technique developed at UC Davis called partial REBOA, in which the catheter is partially deflated to allow the abdominal organs to get some blood flow to reduce the risk of complications from ischemia (blockage of blood flow) and buy more time to finish the operation safely.
The technique required coordinating the balloon position and degree of inflation to control the amount of blood flowing through the aorta to the abdominal organs and uterus.
The surgery took four hours and was a success.
The technique marked the first published use of the device for this purpose in the U.S. and the first time that the ER-REBOA catheter was placed in a pregnant woman for an obstetric operation without the use of radiation or contrast dyes that that could be potentially harmful to the baby.
"The case was a real testament to the excellent care provided at UC Davis and what can be accomplished with cutting-edge research and superior multidisciplinary teamwork," said Rachel Russo, a UC Davis surgery resident, who was part of Petrosyan's medical team. Russo had spent two years at David Grant USAF Medical Center studying the ER-REBOA and refining techniques for its use.
Petrosyan's daughter, Abigail, was born at 26 weeks without significant complications. She spent more than three months in the UC Davis Neonatal Intensive Care Unit (NICU) after birth and is now safely at home.
Petrosyan recovered and was discharged after eight days in the hospital, with no complications. It was a happy ending for this family who beat the odds.
"At UC Davis they were so good taking care of me," said Petrosyan. "All of this group of people provided such great support for me like a family. My whole life is thankful to them for what they did for me. And God blessed them to do a good job."
UC Davis Children's Hospital is the Sacramento region's only nationally ranked, comprehensive hospital providing care for infants, children, adolescents and young adults with primary, subspecialty and critical care. It includes the Central Valley's only pediatric emergency department and level I pediatric trauma center, which offers the highest level of care for its critically ill patients, as well as the West Coast's only level I children's surgery center. The 129-bed children's hospital includes the state-of-the-art 49-bed neonatal and 24-bed pediatric intensive care and pediatric cardiac intensive care units. For more information, visit children.ucdavis.edu.