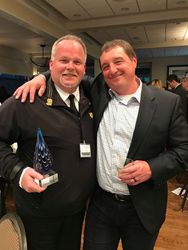 The Talk brand generates over 1 million local mobile impressions a month.
Olympia, WA (PRWEB) September 19, 2017
In the first six months of 2017, NorthAmericaTalk's community social networks have racked up four awards.
"Being recognized by our peers in the business community is a great honor," said Dan Jones, CEO. "We are consistently appreciative of groups that recognize the impact of our businesses in the community."
The following awards were received by the NorthAmericaTalk team:

Small Business of the Year awarded by the Tacoma-Pierce County Chamber of Commerce in June 2017
** SouthSoundTalk.com – covering the Tacoma and Pierce County market

Small Business of the Year presented by the Thurston County Economic Development Council in May 2017
** NorthAmericaTalk Inc. – parent company for six community social networks

Business of the Month honored by the Ferndale Chamber in May 2017
** WhatcomTalk.com – covering the Bellingham and Whatcom County market

Green Business awarded by the Thurston County Chamber of Commerce in April 2017
** ThurstonTalk.com – covering the Olympia and Thurston County market
Additionally, in May, CEO Dan Jones was nominated for a Tourism Visionary award by the Olympia-Lacey-Tumwater Visitor & Convention Bureau.
In July, NorthAmericaTalk announced an expansion into the Vancouver, Washington market. ClarkCountyTalk became the sixth community social network in the NorthAmericaTalk family. "The local community has been excited to hear how we can help businesses reach their target market, grow their brand and measure results," said Martin McElliott, VP of Sales.
"NorthAmericaTalk's media organization is positioning to be one of the largest digital media companies in Western Washington focused on the I-5 corridor, currently spanning from the Canadian border south to the Washington border with Oregon on our radar," said Jones.
"With a mobile-friendly focus on delivering content, we are reaching an engaged population of readers. Our brand generates over 1 million mobile impressions on a monthly basis," said Amy Rowley, Chief Publishing Officer.
About NorthAmericaTalk
NorthAmericaTalk is a digital media company building and operating Community Social Networks™. Through our proprietary technology and sales tools, we are disrupting the media landscape while building a trusted, valuable local media brand. Today, our media group reaches 350,000 engaged neighbors in Western Washington weekly, with over 100,000 social subscribes. Our fast-growing media company is based in Western Washington, spanning from the state capital of Olympia north to urban Tacoma and college-town Bellingham on the Canadian border, south to rural Lewis County, west to the Grays Harbor beaches and even further south along the I-5 corridor to Vancouver, Washington. We count hundreds of various marketers as long-term customers that use our platform to reach their target market, grow their brand, and measure results.