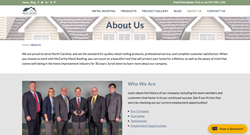 Homeowners have found the "Roofing Needs Profiler" tool, along with other resources throughout the site to be very helpful in making successful decisions in the confusing world of roofing. - Tim McCarthy, Owner- McCarthy Metal Roofing
Raliegh, North Carolina (PRWEB) August 07, 2017
McCarthy Metal Roofing is pleased to announce the launch of their new website. This major site revision is designed to enhance visitor experience. The new website will provide visitors with the most comprehensive information available on metal roofing solutions.
The site features:

Detailed product pages for both residential and commercial applications, including a comprehensive photo gallery.
Information about roof inspections, professional installation services, and a resource to help consumers choose a roofing contractor they can trust.
The McCarthy customer guarantee and product warrantee information, along with customer testimonials, and an industry-best referral program.
Metal Roofing Blog, designed to help keep customers up to date on company/industry news, home improvement tips, and product development insights.
The site also features a new "Roofing Needs Profiler" that guides homeowners through the process of finding a roof that best fits their needs, based on home style, and climate.
Through a series of quick, easy questions, the exact needs of the customer are analyzed. The Roofing Profile shows site visitors where they best fit along the spectrum of Entry Level, Mid-Grade, and Investment Grade Roofing options, and gives users an explanation of each grade of roofing.
"Homeowners have found the "Roofing Needs Profiler" tool to be very helpful in making successful decisions in the confusing world of roofing. This tool along with other resources throughout the site, provides customers and site visitors with a wealth of information. Homeowners that have detailed questions can also get fast answers with a variety of company contact options, including a quick and easy contact form and the option to speak with one of our roofing experts directly."
-Tim McCarthy – Owner, McCarthy Metal Roofs
About McCarthy Metal Roofing:
McCarthy Metal Roofing provides residential and commercial metal roofing products and services throughout North Carolina. McCarthy Metal Roofing specializes in installing metal roofing from the leading manufacturers of permanent metal roofing. For more information about McCarthy Metal Roofing, please visit http://northcarolinametalroofs.com