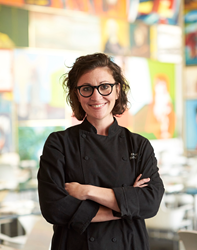 "I am delighted to welcome Remy Ayesh to the Kemper Museum community of art-inspired colleagues," said Barbara O'Brien, Executive Director. "Cafe Sebastienne is a restaurant with a renowned history and, under her leadership, a bright future.
KANSAS CITY, MISSOURI (PRWEB) August 10, 2017
After a national search and a process that included consultation with culinary experts from across the region, Kemper Museum of Contemporary Art's Board of Trustees and Museum leadership have selected Remy Ayesh (pronounced, "reh-mee" "ash") as the new Executive Chef of Café Sebastienne. Ayesh's first day at Café Sebastienne was Monday, July 31.
"I am delighted to welcome Remy Ayesh to the Kemper Museum community of art-inspired colleagues," said Barbara O'Brien, Executive Director. "Cafe Sebastienne is a restaurant with a renowned history and, under her leadership, a bright future. She brings an exciting mix of cultural influences and outstanding training. Her experience and inventive spirit will certainly find a place in the menus at the Café and at special events booked at the Museum."
Born of Lebanese descent in Kansas, Chef Ayesh grew up with diverse tastes from the beginning. From gardening with her grandfather, to learning the art of Lebanese cuisine from her Siti (Lebanese term for "grandmother"), food was an integral part of her life from the beginning. After working for years in restaurants, Ayesh felt inexplicably connected to them: as an athlete, she loved the hard work; as an artist, the capacity for creation and of course as a blossoming chef... the food.
With a strong desire to master her love of food, travel, and writing, Ayesh graduated from the University of Kansas and the Universidad de Seville with degrees in Spanish and Journalism. Upon moving to New York and working in public relations, her passion for food took over completely and enrolled in the French Culinary Institute (now the International Culinary Center).
Later, working as an instructor at this same school, Ayesh quickly rose to Executive Sous Chef of Special Events, all the while doing her own private, high-end wine dinners. She was able to work closely with the school's deans: Jacque Pepin, Alain Salhac, Andre Soltner, and Cesare Casella. Not to mention being a sous chef for the incredible list of chefs from around the world and NYC who passed through the doors of the institution to do public and private events. In May 2011, while still in New York City, Ayesh competed on the Food Network's TV series Chopped.
After some time in NYC, she went back to her Chicago roots, where she consulted as Executive Chef on some very large, multimillion dollar projects and ended up at Pops for Champagne, a nationwide famous champagne bar. Here she was tasked to flip two restaurants in one building, drawing on her ability to match menus to the spaces. From this work, Remy was recognized by Mandarin Quarterly, with the cover image and a featured editorial piece in February 2016.
"I am greatly honored to have been extended the opportunity of Executive Chef at Cafe Sebastienne," said Remy. "I'm thrilled to work amongst great people and know that together we'll move this strongly rooted program into its new future." 
A restaurant career that spans from Chicago to New York and back to Chicago, Chef Ayesh's experiences are nothing short of first-rate. While in Chicago, she briefly worked at graham elliott, then moved on to hold the title of Formaggaia at the renowned Spiaggia, and later becoming Executive Chef at Rootstock Wine and Beer Bar. In 2010, Ayesh was named one of the Top 12 Tastemakers in Chicago, in the company of renowned chef Rick Bayless. National food magazines like Culture Magazine, Beer Advocate, Go, Wine Enthusiast, even Fodor's, all have mentioned Chef Ayesh and her food. She has been repeatedly featured in Metromix, Timeout, Chicago Magazine, Chicago Reader, as well as many online food magazines and blogs.
"I encourage you to join me in welcoming Remy Ayesh as our new Executive Chef to Café Sebastienne at the Kemper Museum of Contemporary Art," said Tony Glamcevski, Director of Food & Beverage, and Special Events. "Remy brings to us a tremendous amount of fresh energy and creativity. I look forward to partnering with her in creating a dynamic food and beverage program for the café and special events that honors our legacy while engaging contemporary audiences. Her experience and knowledge of the culinary arts will push forth our standards of excellence in food and hospitality in a fresh and contemporary way."
###
About Kemper Museum of Contemporary Art
Kansas City's renowned FREE contemporary art museum, Kemper Museum of Contemporary Art opened in October 1994 and draws 100,000 visitors each year. The Museum boasts a rapidly growing Permanent Collection that uniquely bridges modern and contemporary works of art featuring artists such as Louise Bourgeois, Helen Frankenthaler, Willem de Kooning, Georgia O'Keeffe, Keltie Ferris, Trenton Doyle Hancock, Richard Mosse, and Ursula von Rydingsvard. Special exhibitions, installations, lectures, as well as children, teen, and family programs and workshops are hosted at the Museum regularly.
About Café Sebastienne
Recognized as one of Kansas City's premier dining venues for outstanding cuisine since it opened in 1994, Café Sebastienne is nestled within Kemper Museum of Contemporary Art giving diners a spectacularly unique view of the regions finest modern and contemporary art collections. The Gunnar Birkerts architectural design, floor to ceiling works of art, bustling museum atmosphere, top-notch service and award winning wine list are just a few notables that continue to give guests a wonderful dining experience. Café Sebastienne is the perfect setting for intimate and grand affairs, business outings, events and all your special dining needs.
For more information about Kemper Museum of Contemporary Art or Café Sebastienne, visit kemperart.org.
For high-resolution images or media inquiries please contact:
Kent Michael Smith, Director of Marketing and Communications
ksmith@kemperart.org | 816-457-6132