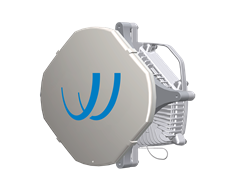 Our new Flex4G-10000 delivers fiber capacity with AES encryption while it dramatically lowers the cost per megabit compared to fiber.
San Diego, California (PRWEB) August 15, 2017
BridgeWave Communications, a market leader in wireless point-to-point systems, today announced the Flex4G-10000 millimeter wave (80GHz) radio system that delivers up to 9.7Gbps capacity, 256-bit AES encryption for highest data security, and the highest system gain to ensure maximum throughput at the longest distances. The Flex4G-10000 offers mobile network operators a much lower cost alternative to fiber in macro/cell backhaul and fronthaul for Centralized Radio Access (C-RAN) networks supporting up to CPRI Mode 7 (9830.4Mbps), while offering ISPs, enterprises, and government agencies a much lower cost alternative to fiber.
The all outdoor Flex4G-10000, which operates in the E-band range (71-86GHz) and is already shipping to customers, has been designed to alleviate the strain of backhaul connections by combining advanced radio and modem capabilities with carrier-grade 10G Ethernet, CPRI, and SONET/SDH features. The radio scales from QPSK to 256 QAM, and from 500 MHz to 2000 MHz, allowing the customer to select the optimal combination of range and throughput. The Flex4G-10000 is also easily and cost-effectively scalable to 10Gbps for BridgeWave customers who have installed Flex4G-UHA, Flex4G-3000, or Flex4G-5000 systems, because it is fully compatible with the antennas deployed with those systems.
"The pressure continues to mount on network owners and operators not only to increase network performance and capacity to support mobile services and bandwidth-intensive applications, but now to ensure that the data transport is highly secure," said Hesham El-Adly, product marketing manager, REMEC Broadband Wireless Networks, BridgeWave Communications and SAGE Satcom. "Until now, the only option to achieve maximum capacity with maximum security in network backhaul or fronthaul was fiber. Our new Flex4G-10000 delivers fiber capacity with AES encryption while it dramatically lowers the cost per megabit compared to fiber. It provides mobile operators, service providers, and enterprises with a true alternative to fiber that is highly secure, flexible, scalable, and faster and lower cost to deploy."
BridgeWave Communications offers a broad portfolio of backhaul solutions including licensed 6-42GHz microwave systems; license-free 60GHz millimeter wave systems; and lightly-licensed 80GHz millimeter wave systems, including the new Flex4G-10000. These systems have been designed specifically to meet the backhaul needs of carriers, enterprises, and ISP customer networks worldwide.
About BridgeWave
REMEC Broadband Wireless Networks LLC dBA BridgeWave Communications provides high-capacity microwave and millimeter wave backhaul and wireless connectivity solutions to operators, carriers, service providers, governments, and private enterprises. With nearly one million radio systems deployed in more than 60 countries, the company's innovative solutions have been entrusted by customers to enable highly reliable and secure, high-capacity, gigabit connectivity while reducing operating costs relative to fiber. REMEC/BridgeWave is headquartered in San Diego, California, and is part of the Moseley group of companies. For more information, visit http://www.bridgewave.com.