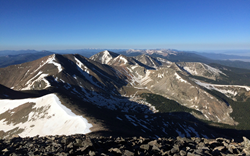 "Without question, Cielo Vista ranks as the largest US ranch sale in 2017," reports Land Report Editor, Eric O'Keefe.
Denver, Colorado (PRWEB) August 15, 2017
Cielo Vista Ranch, located in southern Colorado and home to the highest privately-owned peak in the world, Culebra Peak (elevation 14,053′), sold this past week. The property encompasses four life zones ranging from foothills to alpine as well as 18 peaks over 13,000'. Listed for $105 million, the more than 83,000 deeded acre ranch was listed with Mirr Ranch Group in Denver, Colorado, and the sale of this venerable property is a significant achievement in the global ranch market.
"Without question, Cielo Vista ranks as the largest US ranch sale in 2017," reports Land Report Editor, Eric O'Keefe.
Listing ranch brokers, Jeff Hubbard and Pat Lancaster, both of whom are intimately familiar with the property and have guided elk and sheep hunts on Cielo Vista for over 20 years, note that Cielo Vista's vast natural resources, rich history and exquisite geography are in excellent hands.
According to Hubbard, "The profile of the buyer is absolutely ideal. He is one who is a true conservationist and is deeply committed to preserving this national treasure and extraordinary resource. He truly appreciates and embraces the responsibility of ensuring this property remains a reflection of our state's beautiful landscapes, diverse wildlife and heritage for decades to come."
Mirr Ranch Group is well known for finding conservation and ecological buyers as evidenced by past sales such as JE Canyon Ranch, a 50,000-acre working cattle ranch in Las Animas County, Colorado, the Trees Ranch adjoining Zion National Park in southern Utah, and the Mantle Ranch, an inholding in Dinosaur National Monument. Currently, the real estate firm is seeking such a buyer for the Cross Mountain Ranch in northwest Colorado, which spans 4 counties, over 224,000 acres, and offers more than 20 miles of outstanding river frontage.
"We aim to find good stewards of the land for these unique landscapes, and keep working ranches working. We are proud of our seller and in the buyer we found and believe the buyer will continue a legacy of stewardship at Cielo Vista Ranch," explains Mirr Ranch Group owner/broker, Ken Mirr.
The buyer and terms of the sale are undisclosed.
For media inquiries, arrange for an interview, or get an expert quote, please contact Mallory Boyce at (303) 623-4545 ext. 10. Photography and video available upon request.
ABOUT MIRR RANCH GROUP
Mirr Ranch Group offers marketing and buyer acquisition services for fine sporting properties and legacy ranches for sale throughout the American West and Patagonia. Brokers for the company are known for their expertise in agriculture, hunting, fly-fishing, public lands, and conservation, in addition to their unsurpassed knowledge of ranch and land transactions.
For more information, contact:
Mallory Boyce, Director of Marketing
Mirr Ranch Group
915 South Pearl Street
Denver, CO 80209
(303) 623-4545
http://www.MirrRanchGroup.com