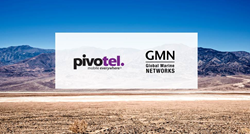 Both Pivotel and GMN have a reputation for being innovative companies with a strong track record in R&D, so we felt very comfortable about the cultural alignment and now look forward to joining the Pivotel family
Southport, Australia and Maryville, Tennessee (PRWEB) August 16, 2017
Leading Australian telecommunications provider, Pivotel, has today announced the acquisition of North American satellite solutions company, Global Marine Networks (GMN) as part of an accelerated push into the satellite data communications market.
GMN core products are focused on speeding up satellite data while also lowering usage costs. The acquisition offers greater access to the GMN product portfolio and its team of developers, including the GMN RedPort brand of satellite VoIP, data routers and services.
The procurement of the Tennessee-based company facilitates greater levels of integration with Pivotel's broad suite of satellite technologies and provides Pivotel with a foothold in the North American market through which Pivotel plans to expand the sales of existing Pivotel products.
Pivotel CEO Peter Bolger said the acquisition was a natural fit with the GMN product suite providing solutions to the satellite industry's pain points of slower and more expensive data downloads.
"Satellite phone technology has come a long way in a few short years. Data downloads are comparatively slow, sometimes painfully slow, and are notoriously expensive on a satellite network, but we know our customers increasingly need to access the Internet and apps for both business and personal use," Mr. Bolger said.
"It makes sense then, for us to partner with a leading satellite solutions developer, to offer our customers with access to faster, more affordable content for an improved user experience. By bringing their expertise in-house we are also able to develop more tightly integrated solutions that leverage Pivotel's network infrastructure.
"GMN and RedPort solutions provide turnkey access to all services including filtering and compressing data as well as blocking unnecessary content and software updates so users can upload and download data faster and more cost effectively, allowing satellite users to get the most out of their voice and data service."
GMN CEO Dr. Luis Soltero agrees that the two companies are a good fit.
"We had spoken with a number of potential suitors but were won over by Pivotel's commitment to the satellite data market and their desire to continue investing in new and improved solutions while also wanting to grow the international sales of the GMN RedPort product suite," Dr. Soltero said.
"Both Pivotel and GMN have a reputation for being innovative companies with a strong track record in R&D, so we felt very comfortable about the cultural alignment and now look forward to joining the Pivotel family."
The transaction between Pivotel and GMN is expected to close on 1 September 2017.
ABOUT PIVOTEL GROUP
Pivotel Group is a leading Australian provider of satellite and mobile technology including satellite phones, satellite broadband, personal and asset trackers, docking kits, M2M connections and maritime communication. Its experienced network of engineers, application developers and account managers ensure Pivotel Group's licensed carrier network is directly interconnected with all of the major mobile satellite operators to provide the most extensive range of satellite voice, data, personal safety and asset monitoring solutions. Pivotel Group's 4G mobile network marketed as ecoSphereTM extends its carrier network to deliver complementary terrestrial wireless services to rural and remote Australians.
ABOUT GLOBAL MARINE NETWORKS
Global Marine Networks (GMN), the leader in advancing satellite data speeds and services, helps Fixed and Mobile Satellite Services providers and their customers by offering the industry's fastest, most reliable and easy-to-use email, web, and other hardware and software services to maritime, oil and gas, first responder and business continuity users. The company's products include XGate high-speed satellite email, web, and vessel tracking systems. Ship to shore marine satellite solutions are offered as branded or white-label solutions for the world's premier satellite data service providers under the RedPort Global brand.
###