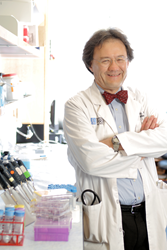 We now have clear evidence that ongoing treatment with lenalidomide can prevent disease progression and extend survival in patients with multiple myeloma who've received a stem cell transplant.
Buffalo, NY (PRWEB) August 15, 2017
The first study to report that overall survival was extended for patients receiving lenalidomide as maintenance treatment for multiple myeloma has been completed, with the team's findings now published online ahead of print in the Journal of Clinical Oncology, or JCO. Philip L. McCarthy, MD, Director of the Blood and Marrow Transplant Program at Roswell Park Cancer Institute, was principal investigator for one of the three clinical studies that are reported in this updated analysis, and is first author of the publication that compiles the international team's findings and analysis.
The new study is a "meta-analysis" reporting updated findings from three large randomized, controlled clinical trials conducted in the U.S., France and Italy by the Alliance for Clinical Trials in Oncology (formerly CALGB), Intergroupe Francophone du Myélome (IFM) and Gruppo Italiano Malattie Ematologiche dell'Adulto (GIMEMA), respectively. The research team compared outcomes for 605 patients with newly diagnosed multiple myeloma who were treated with continuous lenalidomide (brand name Revlimid) following autologous hematopoietic stem cell transplant, also known as bone marrow transplant, and 604 patients who received either a placebo or no maintenance at all.
The meta-analysis has allowed the team to evaluate for the first time, across all three studies, whether overall survival improved for patients receiving long-term treatment with oral lenalidomide following stem cell transplant.
At seven years of observation, the authors report, 62% of those treated with maintenance lenalidomide had survived, compared to 50% of those in the control group. "The use of lenalidomide maintenance for transplantation-eligible patients can be considered a standard of care," they write, noting recent refinements that have improved the efficacy of pre-transplant induction chemotherapy and autologous stem cell transplant.
"With this complete and mature data from three large multinational studies, we now have clear evidence that ongoing treatment with lenalidomide can prevent disease progression and extend survival in patients with multiple myeloma who've received a stem cell transplant," says Dr. McCarthy, Professor of Oncology at Roswell Park and also Professor of Internal Medicine at the Jacobs School of Medicine and Biomedical Sciences at the University at Buffalo. "All the investigators wish to express enormous gratitude to the patients who took part in these trials. Many others will benefit from their role in this research."
These study results were presented in abstract form at the 52nd annual meeting of the American Society of Clinical Oncology in Chicago and the 21st Congress of the European Hematology Association, Copenhagen, Denmark, both held in June 2016, and in March 2017 at the 16th International Myeloma Workshop in Delhi, India. Earlier this year, the U.S. Food and Drug Administration and its European counterpart, the European Medicines Agency, approved use of lenalidomide as maintenance therapy for multiple myeloma patients following transplant; this study was part of the regulatory submissions for those approvals.
The new publication, "Lenalidomide Maintenance After Autologous Stem-Cell Transplantation in Newly Diagnosed Multiple Myeloma: A Meta-Analysis," is available at ascopubs.org.
This press release is also available on the Roswell Park website: https://www.roswellpark.org/media/news/international-lenalidomide-trials-show-survival-benefit-maintenance-therapy-following
###
The mission of Roswell Park Cancer Institute (RPCI) is to understand, prevent and cure cancer. Founded in 1898, RPCI is one of the first cancer centers in the country to be named a National Cancer Institute-designated comprehensive cancer center and remains the only facility with this designation in Upstate New York. The Institute is a member of the prestigious National Comprehensive Cancer Network, an alliance of the nation's leading cancer centers; maintains affiliate sites; and is a partner in national and international collaborative programs. For more information, visit http://www.roswellpark.org, call 1-877-ASK-RPCI (1-877-275-7724) or email askrpci(at)roswellpark.org. Follow Roswell Park on Facebook and Twitter.