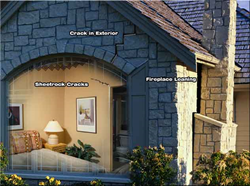 ADA, OK (PRWEB) August 17, 2017
PowerLift Foundation Repair, the largest independent foundation repair contractor and a pioneer in the US foundation repair industry for over 30 years, continues its long-standing practice of releasing consumer tips for reliable foundation repair and long term stablization. As the foundation industry enters its peak season in the Midwestern and Southeastern US, PowerLift provides a five (5) step-process for reliable foundation repairs and stabilization.
PowerLift Founder & President, Bill Bolin, said his firm has a leadership responsibility to publish guidelines on its website entitled "Choosing A Foundation Repair Specialist" and providing helpful consumer information to home owners about the various techniques and applications involved in the foundation repair and stabilization process.
"PowerLift has always been free with resourceful information about foundation repair and proven techniques because we believe an informed consumer makes good and informed decisions," Bolin said. "Unfortunately, industry growth has brought some contractors who quickly come and go from the business and distribute misinformation and untested processes that confuse many people at a critical time they are making repair decisions on their biggest investment - their home."
The five most common and successful foundation repair processes are:
1). Hydraulically Driven Steel Piers: PowerLift provides a patented steel pier lifting system for perimeter foundations and interior floor slabs. These interior pier systems provide the most effective and reliable foundation techniques available to lift and stabilize floor slabs on residential and commercial structures.
2). Helical Piers: PowerLift is an industry leader in the manufacturing and installation of helical piers for residential and commercial structures. Its patented helical piers, combined with its proprietary, synchronized, hydraulic-lifting system, is one of the best options available to lift and stabilize foundations on residential, commercial and industrial structures. As a result, PowerLift piers are recommended by architects, structural engineers and repair professionals across the U.S.
3). Pre-Construction: PowerLift installs helical piers to support new foundations in the pre-construction process for all types of residential, commercial and industrial buildings. It designs, manufactures and installs single and multiple-flight helicals utilizing a wide range of pile diameters to provide the required load capacity customized to each project.
4). Foam Injection: Powerlift pioneered concrete slab lifting with high density polyurethane foam injection. Structural foam provides an effective, light-weight, yet expansive, lifting option to lift settled and sinking concrete in residential, commercial and industrial projects.
5). Mud Jacking: Is a process of pumping a cementuous, flowing material pumped under pressure to lift and stabilize settled concrete by filling voids beneath concrete slabs on residential, commercial and industrial properties.
Founded in 1986 in Ada, OK, PowerLift pioneered the foundation repair business and their patented steel pier foundation systems continue to provide the most reliable repairs available today. The Company has been a major contributor in innovative development of all known modern-day foundation repair techniques. With an A+ BBB rating, PowerLift has repaired over 25,000 residential, commercial and industrial foundations in its primary market area of Oklahoma, Arkansas, Tennessee, North Carolina and several other states. Also, PowerLift has become the "go-to-Company" for the most complicated commercial repair projects across the U.S. and does not consider any job too big or too small.