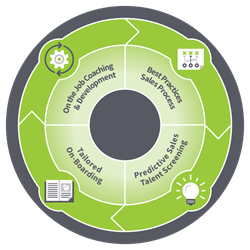 Avoid making costly hiring mistakes while helping ramp up new sales hires and their leaders more efficiently
Columbus, Ohio (PRWEB) August 17, 2017
Weber, a frontline sales consultancy and marketing agency, and Braveheart, a sales performance and transformation firm, have combined their expertise in helping grow top-line sales with SalesAdvantage, built to help clients win the war for sales talent at all levels.
"With the current market tight for quality salespeople, it is increasingly important for companies to avoid making costly hiring mistakes while helping ramp new sales hires and their leaders more efficiently," said Gretchen Gordon, president of Braveheart.
Weber Partner Tom Parry positioned the partnership as a natural extension of Weber's mission to drive growth and increased profitability for clients through frontline sales performance. "One of the most difficult problems our clients face is hiring and on-boarding the right sales talent to produce an adequate ROI as quickly and efficiently as possible. This partnership provides a seamless process from hiring through continuous on-the-job training and development, including a track for sales management and leadership."
Braveheart's approach to repeatable, predictive processes marries nicely with Weber's highly customized approach with clients, said Parry. "We know that our clients will benefit from a more precise process on the front-end of hiring, which will enable Weber's development programs to be even more effective in producing superior sales growth once they hit the frontlines."
Gordon added that Braveheart "has always wanted to provide more robust services to our clients, and with the two companies' combined resources and the expertise that Weber brings to the table, we will be able to provide a fuller suite of services to solve our clients' sales problems."
Headquarters for both Weber and Braveheart are in Columbus, Ohio.
About Weber Associates
Weber Associates blurs the line between marketing, sales and service consulting, and lead generation to help clients accelerate top-line growth. Weber focuses on the critical "moment of truth" – those frontline interactions that occur between companies, intermediary partners and customers - to find gaps and help re-engineer strategies, process, tactics and execution to fix them. Weber has worked shoulder to shoulder with clients to drive measurable, sustainable performance on the frontlines since 1985.
About Braveheart Sales Performance
Braveheart Sales Performance helps companies grow by transforming their sales teams, pipeline and processes. Braveheart provides comprehensive, customized solutions that turn any sales problem into an opportunity to
accelerate sales – guaranteeing a return on investment. Braveheart follows a three-step process of Diagnose, Recommend and Transform and is an Objective Management Group Platinum Partner using its #1 ranked sales assessment tools in the first step of the process.