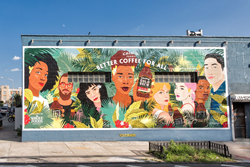 Each hand-painted mural is a unique art installation, inspired by the company's California roots, and offers a brightly-colored interpretation of Califia's 'Better Coffee for All' campaign.
Los Angeles, CA (PRWEB) September 07, 2017
Califia Farms, the disruptive plant-based beverage brand that produces the leading cold brew coffee in the natural (RTD/RFG) category, has unveiled its first-ever large-scale billboards in Brooklyn (14' by 90') and San Francisco (40' by 60'). Each hand-painted mural is a unique art installation, inspired by the company's California roots, and offers a brightly-colored interpretation of Califia's 'Better Coffee for All' campaign. Murals in Brooklyn and San Francisco, created in collaboration with graphic designer and illustrator Mallory Heyer, are on display this week through the end of September, with a Los Angeles mural scheduled to be unveiled in November. All murals are 100% hand-drawn and hand-painted by outdoor creative agency Colossal Media.
"Since inception, our brand has created a unique aesthetic to tell its story, helping to drive adoption of our delicious plant-based beverages through iconic, disruptive packaging and head-turning graphics. We are extending that approach with these stunning interpretations of our 'Better Coffee for All' mission, which aims to make premium, 'better for the people and the planet' coffees more accessible at the retail level, " said Califia Farms CEO Greg Steltenpohl. "We believe that developing great-tasting coffee is its own kind of art, requiring hands-on care, curation and a singular creative vision. These vibrant, one-of-a-kind murals beautifully reflect that mission, and we hope will brighten up the day of passers-by, while extending awareness of our delicious Black Label Cold Brew Coffee creations."
Known for its best-tasting Almondmilks, Cold Brew Coffees and its signature curvy bottles, Califia's new mural installation campaign is another example of the company's innovative approach to reach its target consumer in key cities and focuses on Califia's ready-to-drink Black Label Cold Brew Coffees, which are distinctive not only for their complex, yet smooth, flavor profiles and unique amber glass packing, but also for their traceable, transparent sourcing that benefits Califia's producer partners, consumers and the environment.
Mallory Heyer, the artist for the Brooklyn and San Francisco installations, has created work for MTV, Refinery29, Simon & Schuster, LOGOtv, Google, Sony Music, OkCupid, Samsung, PopTV, among others. The 'walldogs' of Colossal Media hand-drew and hand-painted the murals on the placements using 100% recycled paint. The result is a series of one-of-a-kind artworks that are more vibrant, lifelike and impactful, offering greater dimension and a more human touch than standard digital billboard reproductions.
On display until October 1st, the Califia Farms' Brooklyn mural is located in Williamsburg at North 14 & Wythe and the San Francisco mural is located at Jackson Square, at the cross streets of Pacific & Sansome. The artist for the Los Angeles mural, to be located in West Hollywood at Melrose & Ogden, will be announced shortly, with the mural going on display from November 13 – December 31.
Check out this video to meet mural artist Mallory Heyer and the inspiration and work behind Califia Farms' Brooklyn mural.
Images and videos of the works in progress and at completion are available to the media. Please contact: crystal(at)mwebbcom(dot)com.
About Califia Farms (pronounced "Cal-ah-FEE-yuh")
Inspired by Queen Califia, the mythical namesake of the state of California, and headed by beverage visionary Greg Steltenpohl, Los Angeles-based Califia Farms was founded in 2010 and is one of the fastest-growing natural beverage companies in the U.S. Renowned for having some of the best-tasting plant-based beverages on the market, Califia has become the number one nutmilk and refrigerated RTD coffee brand in the natural channel by creating innovative and healthy premium beverages that make it easy for consumers to go 'plant-powered' and live dairy-free, without compromise. Califia is on a mission is to discover and share 'what plants can do' to help achieve whole body health and to encourage wider adoption of plant-based foods and beverages for the good of our planet.
Join the conversation with @CalifiaFarms on Facebook, Twitter, Instagram and Snapchat.
Califia Farms Media Relations
mWEBB Communications
Melanie Webber, 424 603 4340