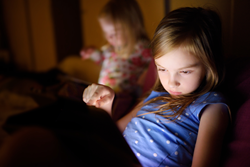 A toxic mix of tech, media and consumerism is turning our children into distraction addicts.
Los Angeles, California (PRWEB) September 14, 2017
Dr. Rob Reiher is no stranger to the immense power of tech, media and consumerism when it comes to manipulating children. He's been researching and writing about their use and misuse for decades. Dr. Reiher is a respected kids' media expert and developmental psychologist who has worked as a top consultant in the kids' product and entertainment industries. Today he is most concerned with the escalating effects of non-stop distraction or "Noise" on children's development and future well-being. Dr. Reiher believes that our always-on "Noise" Culture has created "a toxic mix of tech, media and consumerism that's turning children into distraction addicts. The more distracted they become, the more vulnerable they are to the products and ideas that are being thrust upon them. Children think they're making their own choices, but they're really not."
Reiher says that "Noise", which he defines as: distraction, data overload, and distorted information, is rapidly becoming even more powerful and dangerous because of what he calls the Cycle of Noise. "The Cycle of Noise targets children and makes 'distraction addiction' almost automatic," says Reiher. "It disrupts their high brain development, hi-jacks their self-control and undermines their ability to make wise choices."
As a psychologist, Dr. Reiher sees the impact of "Noise" and digital distraction on parents as well. He believes many parents today suffer from chronic "Noise" fatigue that leaves them feeling stressed, overwhelmed and ill-equipped to deal with their children's often complex problems. These problems include bullying, sexting, excessive screen time and misuse of social media - the consequences of which can have life-long implications. That's where Dr. Reiher's latest project comes in. He has teamed up with Canadian podcast host and producer, Wayne Yercha, to create a podcast that supports families by offering them insights and tools based on his 40 years of research and experience in the fields of media and child development. Reiher and Yercha want parents to know that the growing Cycle of Noise is the problem, not technology, and that there are powerful "future-wise" solutions that can help right now. The stakes for families could not be much higher.
Their podcast is Live Above The Noise. LiveAboveTheNoise.com