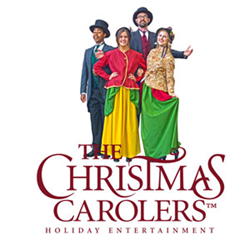 "The Christmas Carolers have become so much more than what I envisioned when I first started the company here in Birmingham." Kenyon Ross
Birmingham, AL (PRWEB) September 05, 2017
The Christmas Carolers already offer their holiday singing services in nearly a dozen major cities, but that's not enough for this company based out of Birmingham, Alabama.
After more than 20 years of performances across the country, the Christmas Carolers will spread even more holiday cheer in states yet to be announced, says founder Kenyon Ross. This will add to the already impressive list of cities these singers perform in, including Dallas, Houston, Philadelphia, New York City, Boston, Chicago, Atlanta, Miami, Washington, Los Angeles, and of course, Birmingham.
The Christmas Carolers bring a unique brand of holiday entertainment to corporate events. They come dressed in authentic, professionally-designed Victorian-styled costumes and perform at luncheons, office Christmas parties, and much more.
Ross says it's a combination of those unique services and affordable rates that make the Christmas Carolers so sought after. He thinks the decision to expand will allow his company to grow in the years to come.
"The Christmas Carolers have become so much more than what I envisioned when I first started the company here in Birmingham," Ross said. "Now, to me, it only makes sense to keep growing with this nationwide expansion. I can't wait to bring the warmth and magic of the season to some of the cities we haven't offered our carolers yet."
While we await the news of which cities will be part of the expansion, those who want to schedule the Christmas Carolers in a city near them should do so soon. Availability tends to be limited, especially as it gets later in the season.
About the Christmas Carolers
The Christmas Carolers, LLC is a caroling company founded by Kenyon Ross in Alabama in 1996. In the decade since then, the Christmas Carolers have grown to become the only nationwide caroling company. Today, the Christmas Carolers has offices in 11 U.S. markets and is the only nationwide caroling company.
Office Locations: New York, Chicago, Boston, Philadelphia, Washington DC, Atlanta, Birmingham, Miami, Dallas, Houston, Los Angeles.
The singers can be positioned around a room or banquet hall in any way requested. They can either remain stationary throughout the evening or roam around the event. The carolers will perform from a lengthy song list, which includes all the holiday hits, like "Frosty the Snowman," "I'll Be Home for Christmas," "Merry Christmas, Darling," and "Most Wonderful Time of the Year."
Companies that want to learn more or schedule the Christmas Carolers for a holiday event this year can visit http://www.thechristmascarolers.com or call toll-free at 844-922-7653.