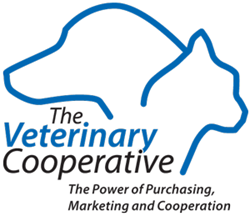 In just 5 years TVC has grown into the largest veterinary cooperative buying group with over 2,600 veterinary clinics representing about $2.5 billion in revenue from pet owners or about 15% of all pet owner revenue spent at veterinary hospitals.
Evanston Il (PRWEB) September 04, 2017
The Veterinary Cooperative(TVC) was the brain child of a dinner discussion in October 2010 at a fall sailing regatta. "There was interest in what a cooperative was since I mentioned I was a consultant in the cooperative industry," said Rich Morris, now CEO of TVC. "I explained cooperatives are a way for independent business owners to compete against growing corporate consolidation, which takes place in all industries eventually. Corporations have the negotiating muscle to get better pricing. They hire MBAs that deploy best practice business tactics, and a corporation will share resources to develop advertising and promotions to increase sales and profits for the corporate locations. A cooperative is owned by its members and provides the same advantages of a corporation while allowing each owner to maintain the advantages of being independent." Morris often cites True Value Hardware and Ace Hardware as examples of cooperatives that often get the same prices on products as their corporate competitors (like Loews and Home Depot), while their advertising in national newspaper circulars draws sales into the independently-owned locations.
At the table was a veterinarian who said, "Consolidation is what's happening in my industry right now. We need a cooperative to ensure that independent veterinarians will thrive into the future." The seed was planted and over the next 18 months of investigation and due diligence Morris concluded that the veterinary industry would benefit from a nationwide cooperative. In July 2012 a group of 4 veterinarians hired Morris to start up the cooperative and incorporated TVC. On September 4th, 2012 TVC welcomed veterinarians to join with TVC's 8 vendor programs.
Today those 4 member/owners have grown to over 2,600 clinics. The TVC ownership represents over $2.5 billion in revenue from pet owners or about 15% of all pet owner revenue spent at veterinary hospitals. "By December 31st it was clear the idea was catching fire with 140 member/owners. My July 2012 prediction was that we would have about 2,000 member/owners in about 10 years. I felt that to provide all TVC member/owners with marketing support, education, best business practices and competitive pricing, TVC would need to eventually get to 5,000 member/owners. That dream is now within our sights within the next few years, way ahead of any predictions I could have made in 2012," said Morris. The changes happening in the Veterinary industry outpace those in others. For example, on March 16th 2017 Ace Hardware Corporation, the world's largest hardware cooperative announced its global store count had exceeded 5,000 locations. Ace had a similar founding in the Chicago area with 5 owner/members in 1924-- about 93 years ago. Morris said, "The pace from 4 or 5 member/owners to 5,000 is much quicker today as businesses realize the need to change and compete with the latest business tools to succeed and thrive, and veterinarians have quickly come to this realization and joined TVC."
In 2016, TVC member/owners purchased $141 million from the 100 vendor programs designed to help member clinics compete with big box stores and corporate accounts. That purchasing activity generated $11 million in rebates and discounts representing about a 7% increase in profitability for each TVC member/owner based on their purchases. Although often referred to as a Group Purchasing Organization (GPO), TVC is not; it is a not-for-profit cooperative, the largest cooperative in the veterinary industry. Any profits are re-distributed to the member/owners at the end of the year in a dividend check. In 2016, TVC distributed $600,000 in dividends back to member/owners (on top of their rebates and discounts).
TVC member/owners also understand their part in supporting the cooperative and TVC vendors. TVC member/owners have gone from purchasing about $30,000 dollars each in cooperative vendors' products and services in 2013 to a predicted $150,000 in 2017. Sales for TVC vendors in 2017 will be over 100% more than in 2016 and vendors are seeing the shift in sales with as much as a 25% increase in same store sales among TVC member/owners. Morris states: "TVC member/owners need to have the independence to choose whatever brand of product or service they want. They need to have the flexibility to provide the pet health care in a way they think is best for their clients' pets rather than be told by a corporation how to practice medicine; TVC member/owners in just a few short years also understand that supporting TVC vendors is in their best interest to Thrive and have responded in a way I could have never imagined. I am proud to have been chosen as the leader of such a great group of business owners. Their understanding of how a cooperative needs to operate and the ability to maintain their independence is better than any of the 150 cooperatives I have had a chance to see in my 15 years of consulting."
To celebrate our 5th anniversary TVC is reducing its onetime Joining fee from $1,000 to only $100. You get 30 days to try out TVC before you even have to make this payment. "And that is the last payment you will ever make to TVC," says Morris. Just enter "birthday5" at http://www.tvc.coop/join