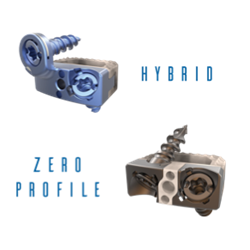 "My clinical outcomes with TOMCAT are excellent."
KNOXVILLE, TN (PRWEB) August 23, 2017
ChoiceSpine LP, a privately-held spinal device manufacturer based in Knoxville, TN, successfully completed its 1,000th TOMCAT Anterior Cervical Discectomy and Fusion (ACDF) procedure. The procedure was performed by Julian Price, MD of Athens Orthopedic Clinic, Athens, GA at St. Mary's Hospital, also in Athens, on August 14, 2017.
"I choose to use TOMCAT for all my ACDF procedures as it provides streamlined implantation with modular instruments, self-locking retention clip and a hybrid device that eliminates difficult screw trajectories." stated Dr. Price. "My clinical outcomes with TOMCAT are excellent as I have experienced early bone growth with the Hydroxyapatite (HA) Enhanced integrated PEEK™ spacer."
The TOMCAT Cervical Spinal System was designed to stabilize and fuse the cervical vertebral column with no profile or low profile anteriorly. TOMCAT is available in two configurations, Zero Profile and Hybrid, both with 4° and 8° lordosis. The Zero Profile, Stand Alone TOMCAT sits within the vertebral body leaving the anterior cervical spine unchanged, which may reduce post–operative complications for good healing. The Hybrid, Stand Alone TOMCAT provides an adaptable surgical solution when previous adjacent level treatment is present. Both devices provide an optimized fusion environment with large, center chambers for bone graft and HA-enhanced PEEK that provides early bone apposition.
"This is an important milestone for TOMCAT and ChoiceSpine. The 1,000th completed TOMCAT procedure continues our successful track record of delivering products that produce quality outcomes in spine surgery," said Rick Henson and Marty Altshuler, co-founders of ChoiceSpine. "TOMCAT's flexible design allows it to adapt to complex cervical anatomy providing spine surgeons with one solution to address multiple surgical challenges during ACDF procedures."
About ChoiceSpine
ChoiceSpine is a privately-held spinal device company located in Knoxville, TN. The Company prides itself on providing excellent products and exceptional service to meet the needs of their customers. ChoiceSpine offers a breadth of innovative and surgeon-focused systems that are designed to be safe, efficient and easy-to-use. By working closely with physicians and maintaining a service-focused distribution, ChoiceSpine will continue to bring technically-superior spinal products to market.
Contact:
KC Gilbert
Vice President Marketing & Professional Education
865-246-3333
kgilbert(at)choicespine(dot)com
choicespine.com