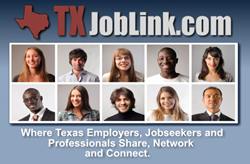 The biggest advantage is that TXJobLink.com is designed for Texas only.
(PRWEB) September 07, 2017
TXJobLink.com is a powerful and effective resource that allows employers, recruiters and jobseekers to share information, network and connect online with ease. Users can network with peers and friends as well as employers or jobseekers.
In addition to networking with peers and friends, TXJobLink.com makes it easy for recruiters to find qualified applicants to fill immediate and future job openings. Recruiters can post unlimited job ads and track jobseekers that apply to or viewed their positions.
On the other hand, jobseekers can apply to jobs, save jobs and track jobs they apply to with one click. Jobseekers can also increase their chances of landing a great job by following companies and joining groups to receive updates. Don't wait! Join today!
According to Jim Davis, Website Manager, there are many benefits to joining TXJobLink.com but three stand out.
1. It's a Texas website and all connections will be local.
2. It provides unique networking opportunities for jobseekers, recruiters and employers.
3. There is no charge to register. Users can create groups and start networking immediately.
The biggest advantage is that the site is designed for Texas only. This means that recruiters and jobseekers can login and began networking with every user on the site without spending time filtering for users in their area or state. Sharing and exchanging information is easy the site is designed to be extremely user friendly. First users have to connect with friends, colleagues, companies or groups before the sharing can began. After the connections are made, then each time a user post comments they will be shared with each person in their network.
Employers, recruiters and jobseekers are invited to visit the site today. Find success, whether that involves networking with friends and colleagues or landing a great job. According to Jim, TXJobLink.com will quickly become a top resource for employers, recruiters and job seekers in Texas. Visit TXJobLink.com.