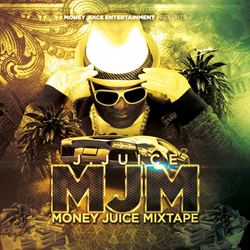 LoL!!! I lost 10 lbs with MJM (Money Juice Mixtape). I play your songs every morning to start my day. Thank you.
(PRWEB) September 01, 2017
Successful businessman and marketer, reborn as a Dominican American musical powerhouse incorporating the best parts of hip hop and Dance into his sound, J.Juice is certainly making an impact both in the SC and national music scene. In exciting news for fans drawn to J.Juice from his wildly popular single "Warm It Up (Twerk), which has over one million views on YouTube, the independent star recently announced his first mixtape "MJM (Money Juice Mixtape)" has dropped. Fans wanting more of the infectious sound of "Warm It Up" definitely won't be let down by what J.Juice delivers, hot, bass heavy and bound to get people dancing.
"I love catchy hooks and dance beats, hip hop and Reggaeton and all these sounds come together on my mixtape MJM," commented J.Juice, who is also CEO of Money Juice Entertainment. "We listen to music to let our wild side out and have a good time and that's the style and spirit that runs in my blood."
"MJM (Money Juice Mixtape)" is also original songs from J.Juice, who has proven to be as capable in the studio as he is on a live stage. Influences include legends like Pitbull, Daddy Yankee and Migos. Some of the songs are already gaining traction with "Happy Dance" already breaking 10,000 streams on Spotify, with Reggaeton song "It Takes Two To Tango", the clubbanger DLAM (Dance like A Millionaire), Party2Night and the strip club favorites Chickenhead and, of course, Warm It Up (Twerk) all also building momentum fast.
The future is bright for J.Juice and Money Juice Entertainment. Expect more news soon.
For more information contact him at j_juice62(at)yahoo(dot)com or moneyjuiceent(at)gmail(dot)com.
Follow J.Juice at FB: @jjuice803 Instagram: @jjuice803 and Twitter: @jjuice803. Visit his website @ http://www.jjuice803.com.
"MJM (Money Juice Mixtape)" is available on Itunes, Amazon and Spotify.