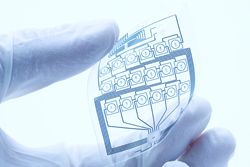 This financing round was completely taken up by the company's current shareholders
San Diego, CA (PRWEB) September 15, 2017
San Diego based graphene materials and products manufacturer Grolltex, has recently closed what it calls an 'Internal Seed B' round of financing, totaling $600,000. The round was entirely filled by existing shareholders of the company's stock and was completed using a 'SAFE' documentation structure at a company valuation of $10M.
Grolltex, short for 'graphene-rolling-technologies', uses patented research and technologies developed at the University of California, San Diego, to produce high quality, single layer graphene in a sustainable and manufacturable way. Today the highest quality 'mono-layer', or one atom thick, graphene materials are produced via a process called 'chemical vapor deposition' or CVD. Until recently, this process has been considered too costly and environmentally detrimental to meet the needs of high-volume manufacturing. Grolltex uses its proprietary schema to produce CVD generated mono-layer graphene in a low cost, high throughput, manufacturing-friendly 'rolling' schema that has virtually no impact on the environment.
The company says this Seed B round will be used to add to the company's existing equipment set and infrastructure toward improving productivity as well as for general corporate purposes while the company navigates the recent release and proliferation of its newest product lines currently being introduced and proliferated into the advanced materials marketplace.
"The fact that this round was fully subscribed and completely taken up by our current shareholders shows the level of trust they have in company management as well as how positively they view our progress to date and our potential for growth in this exciting field," said Jeff Draa, CEO and co-founder of the company. Additionally, the company says it has plans to solicit an A round of financing in mid-2018 to pursue what it calls a 'strategic opportunity' to penetrate and disrupt an identified "large market", enabling graphene materials adoption and utilization for a widely accepted use case.
About Grolltex:
Grolltex, Inc., is a nanotechnology materials, products and equipment company focusing on the optimization and advancement of the key material 'graphene'. The company holds a number of strategic patents and technological advantages in areas relating to the manufacture of high quality, single layer 'CVD' graphene as well as on several advanced products made of graphene, such as hyper efficient solar cells, next generation sensors, advanced fuel cells and futuristic hyper-thin and flexible displays for use in wearables, smart phones and other electronics.
The company is a practitioner of, and specializes in, exclusively sustainable graphene production methods and is committed to advancing the field of graphene to improve the future of leading edge materials science and product design through the optimization of single atom thick materials.
For complete information, please visit: https://grolltex.com/
Media Contact:
Grolltex, Inc.
Attn: Media Relations
10085 Scripps Ranch Court, Suite D
San Diego, CA 92131
(844) 344-6718
support(at)grolltex.com