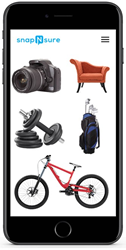 Orange County, CA (PRWEB) September 07, 2017
Starting September 1, 2017 SnapNsure will be offering higher coverage limits. The coverage limit is increasing from $10,000 to $25,000 per unit. By purchasing self-storage contents insurance directly from an insurance carrier through SnapNsure's website at http://www.snapnsure.net consumers can save 50% to 70% per month.
What are the new coverage options that SnapNsure will offer starting September 1, 2017?
Starting September 1, 2017 SnapNsure will have three new self-storage contents insurance plans available. The plans and pricing are as follows:

$15,000 of coverage for $21.99/month
$20,000 of coverage for $26.99/month
$25,000 of coverage for $32.99/month
SnapNsure will still offer the previously offered plans with the lowest monthly premium of $4.99/month. All of these plans have a deductible of only $100.
Additional coverage options for what people fear the most
Rather than excluding certain types of damage from policies, SnapNsure offers additional coverage options for Flood, Earthquake, Rodent and Named Storm damage. SnapNsure is the only company offering all of these coverages nationwide.
SnapNsure is out to change the way people interact with their insurance provider and will handle cancellations of any existing policies at no extra cost. Don't waste money buying insurance from a self-storage facility.
What is so different about SnapNsure insurance?
Built on state-of-the-art technology, every account Includes a Free Photo Archive tied directly to the policy. This allows customers to view photos of everything they've stored whenever they want. The photo archive is not required to get a SnapNsure policy.
Storage insurance for as little as $4.99 a month
SnapNsure is licensed throughout the continental US and underwritten by an A rated carrier that maintains an A rating from A.M Best.