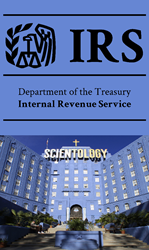 The Church of Scientology is a predatory and inhumane organization. The IRS needs to open an investigation into Scientology's ill-gotten tax exemption.
Hollywood, California (PRWEB) September 11, 2017
Scientology critic Jeffrey Augustine, author of the acclaimed "Scientology Money Project" blog, has launched a petition demanding that the IRS Commissioner open an investigation into the Church of Scientology's tax exemption.
More than 6,500 people have already signed the petition in a very short time. Click here to read the petition: We Demand the IRS Commissioner Begin an Investigation into Scientology's Tax Exempt Status
This petition supports actress Leah Remini's call for a Federal investigation into the Church of Scientology. Leah Remini is presently the host of the Emmy-nominated A&E show "Scientology and the Aftermath." This show tells the stories of former members of the Church of Scientology.
As Augustine explains, "This is a shocking but true fact: Due to a loophole in the IRS Restructuring Act of 1998, there are only three people in the entire US Government who can call for an investigation into Scientology's tax exemption or that of any other church.
The IRS Commissioner has the legal authority to open an investigation into the Church of Scientology's 501(c)3 tax exemption. The Commissioner is the most logical person to petition given the current IRS Code as it relates to churches.
You do not need to be a US citizen to sign the petition. This is a petition and not an election.
About the Petitioner Jeffrey Augustine:
Author: The Scientology Money Project blog.
Host: Surviving Scientology Radio podcasts. Augustine interviews former high-ranking members of the Church of Scientology. Guests have included Ron Miscavige Sr., the father of Scientology leader David Miscavige. Augustine's podcasts are available on YouTube, iTunes, and Soundcloud.
Jeffrey Augustine's wife is Karen de la Carriere. Karen was a Class XII Case Supervisor in the Church of Scientology. This is the highest possible technical position that can be attained in Scientology. Karen de la Carriere personally trained under L. Ron Hubbard and served for several years aboard his Flagship Apollo. Karen was at one time married to Church of Scientology President Heber Jentzsch.
Contact Jeffrey Augustine: scienowriter(at)gmail(dot)com
Twitter: @JeffreAugustine
Thank you for signing and sharing the petition.