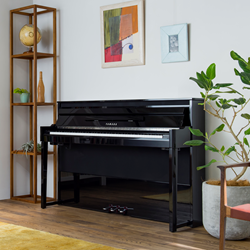 Buena Park, California (PRWEB) September 01, 2017
Yamaha today announced the AvantGrand NU1X, the successor to its highly successful NU1 upright hybrid piano. Major upgrades over the NU1, which Keyboard magazine described in June 2013 as "the new gold standard in a self-contained but compact acoustic piano replacement," elevate the playing experience to a level of quality unprecedented in an instrument of this form factor.
Like the NU1 before it, the NU1X is built upon the legacy of the U1, the most widely used acoustic upright piano in the world (In fact, Yamaha has built more U1 units than most other piano manufacturers have built across their entire product lines). The NU1X joins the growing family of instruments bearing the moniker of AvantGrand, the company's flagship line of hybrid pianos that combine the tuning stability and maintenance-free operation of a digital piano with the musicality and realism of an acoustic grand.
First among the refinements in the new NU1X is the sound. The NU1X improves upon the NU1's multi-samples of the critically acclaimed Yamaha CFX concert grand even further, while adding a companion world-class piano, the mighty Bösendorfer Imperial. These are reproduced via a pair of 16cm woofers and 1.9cm tweeters (all front-facing), with the inside of the NU1X being a unified enclosure with specially designed acoustic chambering to enhance natural reverberation as on an acoustic piano, not to mention providing bass response that does justice to the presence and thunder of the nine-foot source pianos. This is further enhanced by "tone escape" ports on the rear, which give a sense of the sound reflecting from whatever wall the instrument is likely to be placed against. Thanks to the company's prominent expertise in acoustic sampling, the core sounds and onboard speaker system were not merely "bolted on" to one another, but engineered from the ground up as an organic whole. The purpose: To give an utterly convincing sense of the plethora of tones of which a piano can blend naturally in the air, as they do on the genuine acoustic article.
Great sound demands great feel, and the NU1X delivers with a real acoustic upright hammer action that is far more grand-like in its response than that of the NU1, or indeed, of any digital piano on the market today. Dynamic sensitivity in response to softly played passages is improved, as is smoothness of key return for fast or repeating runs and trills. Via the NU1X's continuous grayscale sensor technology, careful study of the interaction between the optical key sensors and the physical action has allowed Yamaha to eliminate the "flat spots" in the total dynamic range that are often a shortcoming of upright pianos. Beyond this, there is more "information" and therefore more resolution in the sound, especially when playing at very low velocities.
Virtual Resonance Modeling (VRM) ups the realism ante still more. In an acoustic piano, strings that are not directly struck by the hammers vibrate in sympathy with those that are — an effect which can be more pronounced if dampers are disengaged from the strings due to previously held keys or, most noticeably, if the damper pedal is pressed. This adds additional overtones (harmonics) to the player's intended notes, with further coloration imparted by the natural resonances of the wooden soundboard. Yamaha VRM painstakingly models these acoustic properties, capturing a visceral and psychoacoustic aspect of the grand piano experience that, while subtle, is quite conspicuous in its absence to discerning pianists.
Other key features of the new NU1X include:

Binaural CFX grand piano sound variant, optimized for playing through headphones.
Wireless Bluetooth audio input for playing along with streamed songs from a smartphone, tablet, or computer.
Additional voices in common with the Clavinova CLP-685.
MIDI and audio recording
Built-in metronome.
The NU1X is intended for families, students, educators, and urban dwellers who wish to fit a no-compromise piano experience into a limited space at a surprisingly affordable price. With the NU1X taking its place alongside its larger N3X, N2, and N1 siblings, virtually anyone who longs for that experience can now afford the playability and prestige of a genuine AvantGrand.
Pricing and Availability
The AvantGrand NU1X will be available at authorized Yamaha piano retailers starting in October 2017, with an MSRP of $6,999.00.
For further information, visit http://4wrd.it/AVANTGRAND
-END-
About Yamaha
Yamaha Corporation of America (YCA) is one of the largest subsidiaries of Yamaha Corporation, Japan and offers a full line of award-winning musical instruments, sound reinforcement, commercial installation and home entertainment products to the U.S. market. Products include: Yamaha acoustic, digital and hybrid pianos, portable keyboards, guitars, acoustic and electronic drums, band and orchestral instruments, marching percussion products, synthesizers, professional digital and analog audio equipment, Steinberg recording products and NEXO commercial audio products, as well as AV receivers, amplifiers, MusicCast wireless multiroom audio systems, Blu-ray/CD players, earphones, headphones, home-theater-in-a-box systems, sound bars and its exclusive line of Digital Sound Projectors. YCA markets innovative, finely crafted technology and entertainment products and musical instruments targeted to the hobbyist, education, worship, music, professional audio installation and consumer markets.