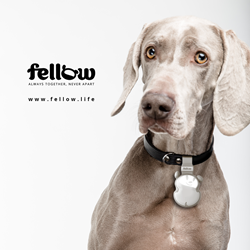 Fellow is cute, loveable and innovative, and not only helps to find lost dogs, but also creates a community which members can communicate and share commercials, information with each other.
London, United Kingdom (PRWEB) September 01, 2017
Protection, community building, extended care through technology. With this new dog tracker gadget, a Fellow app and a smart phone, the dog owner will be able to locate the pet and receive data about its conditions all the time. Just attach Fellow to the pals' collar and it enables an expanded care. Fellow provides a solution to most problems that arise day to day in the life of a dog owner.
For instance, when a dog is taken for a walk and its pitch black outside Fellow makes the pet clearly visible with an intelligent LED lighting system operating automatically. Or, the dog house may be too cold in winter or too hot in the summer heat. The gadget always notifies at times of such critical circumstances.
Its extended digital leash sends a signal through a smartphone application in case the contact is lost with the dog, so the owner can start searching immediately with the help of Fellow Community. Without Fellow one can rely only on identification tags or implanted chips in the event when a stray dog is found. This device, however, is able to store and send information about the dog conditions and its whereabouts.
"We created a system which strengthens the special relationship between dogs and owners," says Fellow Technologies CEO Joseph Kassai. "Fellow is cute, loveable and innovative, and not only helps to find lost dogs, but also creates a community which members can communicate and share commercials, information with each other. Moreover, Fellow is the first pet gadget based on Bluetooth 5 technology on the market, so Fellow raises the user experience to a completely new level." adds Kassai.
Fellow is also compatible with earlier versions of Bluetooth however the real Fellow experience can only be enjoyed with the latest generation mobile phones such as the new iPhone 8 to be released by the end of the year.
Strengths of Fellow:

The first pet gadget on the market based on Bluetooth 5 technology
With Bluetooth 5 wireless technology Fellow's extended electronic leash reaches up to 200 meters (650 feet)
Fellow makes your dog visible in pitch-black with an intelligent lighting system
Lighting can be switched on and off with an app in real time
Different colors can be assigned to different dogs at the same time so you can distinguish your pet from other dogs in the pack
Fellow monitors the pet location and conditions sending data to the mobile phone about distance and temperature
Community GPS: Fellow interacts with other devices enable the users to identify lost dogs therefore to build a protective community network of pet lovers
The Fellow app will provide personalized, location-based opportunities as well as ads for dog owners.
The device is weather-proof: the body is made of water resistant, dust and shockproof polycarbonate & elastic polymer. The Bluetooth 5 technology and a revolutionary charging system enable Fellow to operate far longer than other similar devices.
The Fellow prototype is in the testing phase at the moment continued by a community testing starts in a month or so. Fellow will be launched with a crowdfunding campaign during this fall, the Fellow experience will be available on the US market by the end of the year.
For pre-orders and latest Fellow news, please sign up on the website and follow Fellow on social media.
Fellow – Always Together, Never Apart
Web: http://fellow.life/
Facebook: https://www.facebook.com/fellowfordogs/
Instagram: https://www.instagram.com/fellowfordogs
Twitter: https://twitter.com/fellowfordogs
About the Company:
Fellow Technologies was founded with the mission of developing its first project: to create Fellow. The founders are passionate design & tech enthusiasts, who believe that the creative use of the latest innovations, technology can bring the people all closer and helps to achieve a more fulfilling life. Utilizing the crews' expertise in product design, hardware & software development, the company creates beautifully designed, wearable and connected products that make everyday life easier, safer and more fun.