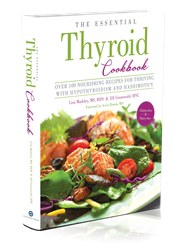 The Essential Thyroid Cookbook is masterfully written and will support you for a lifetime of peak thyroid function no matter where you currently are on your wellness journey.
Minneapolis, MN and Lenexa, KS (PRWEB) September 06, 2017
With their combined 20 years of culinary and nutrition expertise, food authorities Lisa Markley, MS, RDN and Jill Grunewald, integrative nutrition and hormone coach, have pioneered an original, scientifically supported Hashimoto's diet cookbook: The Essential Thyroid Cookbook: Over 100 Nourishing Recipes for Thriving with Hypothyroidism and Hashimoto's.
The cookbook is available for preorder now on Amazon and Barnes & Noble. Or, preorder here, before September 19, to get exclusive bonus content that isn't available elsewhere: https://thyroidcookbook.com/bookbonus
It's masterfully written and the renowned Susan Blum, MD states, "[The Essential Thyroid Cookbook] is one of the most amazing food education and recipe books I've ever seen."
Grunewald shares, "The inspiration for this cookbook stemmed from the many successful stories from my clients who've experienced the life-changing power of thyroid- and immune-supportive nutrition that helped to alleviate their Hashimoto's symptoms. I worked closely with expert recipe creator, Lisa Markley, to take these nutrition recommendations and translate them to the plate to create over 100 nourishing and mouthwatering recipes geared toward the home cook."
Markley, a registered dietitian with over a decade of nutrition and culinary experience, states, "While the recipes are therapeutically designed to support those with thyroid and immune imbalances, they were created to appeal to all palates and cooking abilities."
Hashimoto's (autoimmune hypothyroidism) is the most common autoimmune disease and thyroid problems are among the most prevalent yet overlooked conditions that compromise women's (and, increasingly, men's) wellbeing. Therapeutic nutrition and lifestyle modifications, as outlined in this long-awaited resource, are effective strategies for optimizing the health of those living with thyroid dysfunction.
Markley and Grunewald, who've each experienced the challenges of Hashimoto's first-hand, took a rigorous academic approach to The Essential Thyroid Cookbook. In preparation for the choices of ingredients, they developed a "nutritional springboard" that provides the foundation for their Hashimoto's diet recipes. They extensively studied the most supportive nutrients for the thyroid and immune system and then identified foods that are dense sources of these nutrients, which ultimately laid the groundwork for Markley's truly outstanding and original culinary creations.
Publication date: September 19, 2017
About Lisa Markley: Lisa Markley, MS, RDN is a dietitian and culinary nutrition expert who works passionately toward improving the health of others. She knows first-hand the struggles of Hashimoto's and has utilized therapeutic nutrition and Functional Medicine to heal. She shares her practical kitchen wisdom and nourishing recipes in The Essential Thyroid Cookbook.
About Jill Grunewald: Jill Grunewald, HNC, Integrative Nutrition and Hormone Coach, is a thyroid health and Hashimoto's specialist and wrote the educational component of The Essential Thyroid Cookbook. For nearly a decade, she has successfully guided her clients and students with hypothyroidism and Hashimoto's to health and vitality.
Contact: Lisa Markley or Jill Grunewald, authors | partners, Blue Wheel Press LLC
612.722.3088 | info (at) thyroidcookbook (dot) com | http://www.thyroidcookbook.com
Visit http://www.thyroidcookbook.com/press for a 48-page sample cookbook, book and author photos, author bios, and other book details.
Facebook: http://www.facebook.com/healthfulelements
Twitter: http://www.twitter.com/hormonecoaches
Instagram: http://www.instagram.com/healthfulelements
LinkedIn Grunewald: https://www.linkedin.com/in/jillgrunewald/
LinkedIn Markley: https://www.linkedin.com/in/lisa-markley-ms-rdn-5399315/