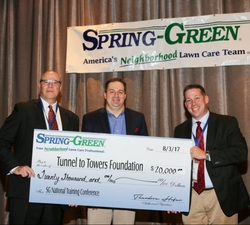 Plainfield, Ill. (PRWEB) September 06, 2017
Spring-Green Lawn Care recently welcomed franchise owners from across the country to its National Training Conference Aug. 2–5, 2017, at the Hyatt Lodge and Hamburger University in Oak Brook, Ill.
As part of the company's event, franchise owners, and Spring-Green employees took part in a silent-auction fundraiser that offered items donated by Spring-Green strategic vendors and other friends of the company.
The auction raised $20,000 overall for the Stephen Siller Tunnel to Towers Foundation's Building for America's Bravest program, which has pledged to build 200 mortgage-free, custom-designed smart homes for catastrophically injured service members.
"Spring-Green's culture of compassion and giving back personifies the type of organization that the foundation wants to build a long-term relationship with," said Andrew McClure, Tunnel to Towers' director of marketing and development. "Spring-Green recognizes the tremendous sacrifice made by our service members — and these smart homes enable our most severely injured heroes to live better, more independent lives."
According to Travis Snead, an Army veteran and Spring-Green franchise owner since 2014 in Shallotte and Wilmington, North Carolina, the company's support for organizations that serve veterans makes him proud to be part of the company.
"Spring-Green's support for organizations like Tunnel to Towers reinforces all the reasons I invested in this franchise," Snead said. "It just goes back to the family-oriented atmosphere of the company — they've always supported veterans like me, so it was easy for me to want to invest in them."
Spring-Green Lawn Care CEO Ted Hofer noted that the past three silent auctions have benefited organizations dedicated to giving back to America's military veterans — and that Spring-Green has been part of the International Franchise Association's VetFran program for many years, offering a discounted franchise fee for veterans interested in starting a Spring-Green franchise.
"Our entire franchise system gets behind this cause, and once again franchise owners bid generously on the silent auction items," Hofer said. "Spring-Green has many franchise owners, field service professionals, and other team members who are former members of the military — these causes most align with who we strive to be as an organization."
About Spring-Green Lawn Care
Founded in 1977, Plainfield, Illinois-based Spring-Green Lawn Care has been delivering lawn and tree care services nationwide for more than 40 years. Its service is centered on the beautification of residential and commercial customers in middle-class and affluent neighborhoods and communities.
Spring-Green is an attractive opportunity for existing green industry business owners who want to align themselves with a business model that has proven economic resilience, healthy profit margins, industry leading business and marketing intelligence, recurring revenue and retirement and succession planning.
For more information, visit http://www.springgreenfranchise.com.
About Building for America's Bravest
In 2011, the Stephen Siller Tunnel to Towers Foundation officially began Building for America's Bravest, a program that raises funds to build custom designed, specially adapted homes for the most catastrophically injured American service members.
Through October of 2016, 56 smart homes have either been completed, are under construction, or are in the design stage. The Foundation has set a goal to build a minimum of 200 smart homes throughout the country.
For more information, visit https://tunnel2towers.org/.