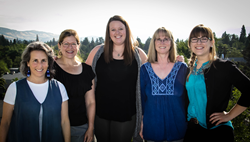 "It's all about being empowered," says Dr. Laura Robin of Rosa Transformational Health.
MEDFORD, Ore. (PRWEB) November 22, 2017
According to recent studies completed by the National Institutes of Health for the U.S. Department of Health and Human Services, each year more than one in five people aged 4 years and over in the U.S. will turn to complementary health approaches for their healthcare. As people increasingly turn to alternate forms of medical treatment, Rosa Transformational Health provides critical complementary health services.
Based in Medford, Oregon the trained medical staff at Rosa Transformational Health provides individually-tailored nutrition and healing programs specifically designed to address a wide array of conditions and ailments, including diabetes, autoimmune disorders, gut problems, fatigue or an overall lack of focus, thyroid issues, hormonal imbalances, weight problems and more.
Dr. Laura Robin sees patients at the Rosa Transformational Health clinic. Robin says it is time to acknowledge that people are individuals and have unique health needs through services that aim to harness the power of the body through functional and integrative medical approaches.
"It's all about being empowered: not only knowing that we truly have the power to heal much of what ails us, but actually empowering ourselves to really take the actions needed to make it happen. Is there an easy-to-use system to help us make change for real and for good? Absolutely. Ask any of our alumni or participants," Robin says.
Rosa Transformational Health is a place where experienced doctors, trained in classical Western medicine, partner with patients to provide them with effective approaches to addressing vexing health conditions. The goal is to harness and activate a patient's innate healing abilities.
As the personalized and functional medicine market continues to expand, Rosa's experienced doctors bring a pioneering approach to health and wellness to Oregon. Their team brings a rare depth and breadth of experience. Rosa Transformational Health's approach is designed to fill a gap between Western medical and functional and integrative approaches. Rather than replacing a patient's primary care physician, Rosa Transformational Health works with a patient's primary care physician to help them achieve optimum health.
Their goal is to use the most precise, effective, cutting-edge care to create optimal health conditions within a patient's body. They offer treatments designed to attain physical, mental, emotional and spiritual well-being.
Treatments offered include three and six-month Medically-Directed Wellness Programs designed to address the root cause of a patient's health problem utilizing nutritional techniques, lifestyle changes, mind-body awareness training and techniques, coaching and mentoring.
For more information on Rosa Transformational Health and the services they offer, please visit the website at http://www.rosahealth.com/. Rosa Transformational Health Program Coordinator Molly Nickle is also available for interviews. Please contact her at (251) 979-0601, or request an interview by email: molly(at)rosahealth(dot)com.
About Rosa Transformational Health:
Rosa Transformational Health is a groundbreaking medical clinic located in Medford, Oregon specializing in unique, personalized lifestyle and health and wellness programs. Working with patients' primary care physicians, Dr. Laura Robin health aims to provide effective methods for solving some of the most vexing health needs. When it comes to functional and integrative medicine, they stand out among the best in the Pacific Northwest. For more information, call (541) 816-4336.