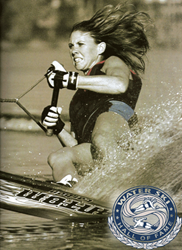 I am extremely honored to be considered for the Hall of Fame and can't wait to celebrate with all of my family and friends. -Rhoni Bischoff
Polk City, FL (PRWEB) September 19, 2017
"The Water Ski Hall of Fame is proud to recognize Rhoni for the incredible impact she has had on the sport we cherish," said Tracy Mattes, Executive Director of the USA Water Ski & Wake Sports Foundation. "She was selected because of her supreme accomplishments, dedication and sacrifice to the sport of water skiing."
To be inducted into the Water Ski Hall of Fame is the highest honor the sport bestows and celebrates those trailblazers who have shaped the sport over the years.
"No athlete wants their professional career come to an end, but thankfully I have been blessed with an amazing life in the sport of water skiing," said Rhoni Barton Bischoff. "Even though I am finished competing at the pro level, I still love the sport and it will always be a huge part of my life! I am extremely honored to be considered for the Hall of Fame and can't wait to celebrate with all of my family and friends."
Bischoff will be officially enshrined at the 36th annual Water Ski Hall of Fame Induction Ceremony on April 28th, 2018 at Walt Disney World's grand Fantasia Ballroom at the prestigious Contemporary Resort.
The remaining honorees making up the Water Ski Hall of Fame Class of 2018, including Award of Distinction and Lifetime Achievement, will be announced next month.
Rhoni Barton Bischoff will enter the Hall of Fame as one of the most dominant and recognizable female water skiers in history. Bischoff's impressive list of water ski accomplishments include being a former Women's World Overall Record Holder, a 12-time United States World Water Ski Team Elite Team Member, an 8-time World Team Champion, a 20-time U.S. National Champion, a 6-time U.S. Open Champion, a 2-time Masters Champion, and a 4-time Moomba Masters Champion. She held the #1 ranking the World for the Women's Overall for 11 years and was AWSA's Female Athlete of the Year five times. As a collegiate water skier, Bischoff was a trailblazer becoming the "winningest" Collegiate Water Skier of all times, winning 14 National titles.
Bischoff is just as well known for her work "off the water" as a coach, official, volunteer and ambassador. Her coaching highlights include multiple junior U.S. National Water Ski Championships medalists and U.S. National Junior Development Camps. Bischoff was named the 2001 U.S. Junior World Water Ski Team Coach and won Developmental Coach of the Year in 2001 and 2004. Bischoff has held numerous volunteer position with AWSA including serving on the Board of Directors, Athletes Advisory Committee and National Junior Development Committee from 1996-2013. She was also an 8-time AWSA "Senior Judges Clinic" Instructor. Her list of accomplishments goes on and on. Currently, Bischoff is the events manager for Nautique and since 2014 has been responsible for producing the U.S. Open and Masters Water Ski & Wakeboard Tournament each year.