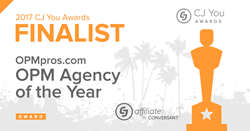 Montreal, QC (PRWEB) September 07, 2017
http://www.cjuniversity.com/networking#awards-a
OPM Pros has once again been recognized as one of the most influential affiliate marketing agencies. Nominated for Agency of the Year at the CJ You Awards, OPM Pros is not new to being highlighted for their commitment to the industry. In the same category, they were also nominated as finalists in both 2014 and 2016, and won the award in 2015.
Every year, the best advertisers, publishers, agencies and partners are chosen for their excellence in terms of achievements, performance and contributions to the network. Recipients of the awards will be announced on Wednesday, September 13th at the CJ You Awards Dinner, taking place at Santa Barbara's The Fess Parker – A Doubletree by Hilton Resort. There are new additions to the annual ceremony, including new categories of awards and surprise live entertainment.
"I'm extremely proud of our team and our unwavering dedication to providing our amazing customers with the very best in outsourced program management and we remain truly committed to helping you to grow your business." states Paresh Vadavia, OPM Pros Co-Founder and CEO. This year's CJ Conference has an overarching theme of: Reach. Grow. Innovate., which is exactly what OPM Pros has been implementing in order to reach new levels of success, year after year. "We strive to constantly innovate and find new strategies, technologies or relationships that can benefit our clients." Vadavia explains.
It is exactly this relationship-centric approach which has been the secret sauce in building affiliate programs for over 150 retailers worldwide. "We invest a lot of time and energy in building strong relationships, not only with our clients, but also our publisher partners. We understand how the affiliate marketing industry involves many moving parts, and our mandate is to go the extra mile and make everyone's road to success a smooth one." explains Sonny Lamba, Co-Founder and CFO. "Our team ensures that our clients have access to key players in the digital marketing community without having to build from the ground up." says Lamba.
An exciting month for the OPM Pros team, "not only are [they] elated by this nomination, but equally excited to be meeting with clients and affiliates, old and new, at the CJ Conference, as well as celebrating [their] 8-year anniversary!".
Elaborating on this exciting time for the agency, Paresh explains, "we've driven over $3 billion in revenue for our clients and have created an incredible work environment for our growing in-house team. We have been able to develop an operational style and infrastructure that has allowed us to excel and deliver high ROI in today's fast-paced marketing environment." Finger on the pulse of the industry, Vadavia and Lamba hint at new changes and innovations for the coming year. "Affiliate marketing is everywhere. In 2018, OPM Pros is going to take clients and publishers Beyond the Link." says Vadavia.
About CJ University
CJ University, commonly referred to as CJU, is an annual conference that provides unique networking and information sharing opportunities for the fast-growing affiliate marketing industry. It is designed to empower all stakeholders in affiliate marketing with tools, insights, and ideas to propel their businesses. For information on how to register and attend, visit: http://www.cjuniversity.com.
About OPM Pros
OPM Pros is an award-winning digital marketing agency that works closely with major retailers to help them maximize their online revenues. Based in Montreal, Canada, OPM Pros specializes in affiliate program management across the full range of affiliate networks. Every year OPM Pros continues to mark achievements for distinguished performance in affiliate marketing.
http://www.opmpros.com