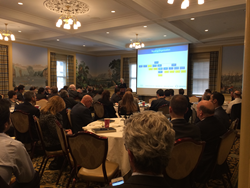 New York, NY (PRWEB) September 06, 2017
The Wall Street Technology Association (WSTA®), a not-for-profit organization that provides financial IT professionals a forum to learn from and connect with each other, will host a seminar and panel discussion on "Data Digitization Solutions and Integration" on September 14, 2017 in New York City for Financial IT Professionals. This afternoon event will be followed by a networking reception. Speakers and panelists currently include Luncheon Speaking Sponsor: Nuance Communications; Speaking Sponsors: BMC, Forcepoint, and Hewlett Packard Enterprise; Platinum Sponsor and Panel Moderator: Ernst & Young LLP and Panel Sponsor: HGST, a Western Digital brand. Click here for more information: https://www.wsta.org/events/event/data-digitization-solutions-and-integration-seminar/
Firms are realizing benefits from effective data management that incorporates data sources from across the enterprise. This includes the opportunity to leverage digitization solutions to efficiently format, catalog and store multi-media, physical documents and unstructured data. The types of data sources to be reined in span the enterprise and the opportunities to realize tangible business value are real. Listen to solution providers who can share proven strategies for setting up or expanding programs in the world of digitization to increase analytical capabilities, broaden customer service offerings and extend automation capabilities.
Panel Discussion:
This technology-focused discussion will center around strategies financial services firms have effectively employed across the enterprise to organize data across multiple business lines and leverage it for new business opportunities. This relies on creating effective metadata, harvesting both structured and unstructured data from institutional data repositories and social media content, leveraging cloud services to make data access, storage and analysis efficient, and investing in an effective suite of data management tools (i.e. = BI, document management, etc.).
About the Wall Street Technology Association (WSTA)
For 50 years, the Wall Street Technology Association (http://www.wsta.org) has provided financial industry technology professionals, vendors, service providers, and consultants forums to learn from and connect with each other. The WSTA facilitates educational seminars and networking events where members meet and exchange ideas and best practices that assist them in effectively capitalizing on technology advances and dealing with financial industry business challenges. Founded in 1967, the WSTA is a not-for-profit association with a long history of evolving to meet the needs of its members.
Financial Firm Members
WSTA financial firm members are employed at banks, brokerages, hedge funds, insurance companies and other financial firms. The WSTA currently has about 2,400 members from over 50 different firms; 81% of the members hold senior titles such as CIOs, CTOs, Vice President, Director and Manager. The remaining 19% hold other titles such as analysts, engineers, architects, etc. The WSTA also reaches over 2,200 prospective financial firm technology professionals, plus an additional 5,400 individuals involved in other areas of technology with information about educational and networking opportunities.
Affiliates and Sponsors
Affiliates and sponsors are an integral component of the WSTA. As a not-for-profit organization, they contribute significantly by providing the resources needed to run the educational and networking programs for WSTA financial firm members. These programs strengthen the bond between members and companies that serve the technology needs of the financial community.