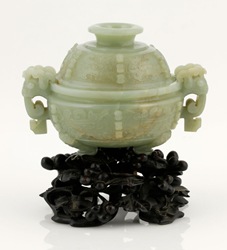 Beverly, Massachusetts (PRWEB) September 04, 2017
Kaminski Auctions kicks off its' fall schedule with a Two Session auction on Sunday, September 17th starting at 10:00 am EST. Session One features an important collection of Asian antique porcelain from the Wayland Collection.
An extremely rare Chinese Famille Rose vase standing 11 1/2" in height is the feature lot of the collection conservatively estimated at $8,000-$12,000. This is followed up by a very rare Chinese celadon-ground iron-red medallion bowl decorated with phoenix's measuring 6" inches in diameter. The piece was purchased at Sotheby's in 2012 and features a body with deep rounded sides rising from a short tapering foot to the rim. The bowl is decorated around the exterior with five large iron-red phoenix medallions and a single one on the interior. All are on a pale celadon-green glaze thinning to white at the rim. With the seal mark of Daoguang in underglaze blue and of the period, this lot is valued at $3,000-$4,000. (Reference: Lot 22, Sept. 12, 2012, NY, Sotheby's)
A delicately potted Chinese coral-ground lotus bowl measuring 5 1/8 inches in diameter is also a featured lot. The bowl has a slightly flaring rim and the exterior has meandering scrolls bearing lotus and peony blooms, all on a rich coral-red ground. With the Qianlong reign mark under-glazed and of the period it is presented at a $3,000-$4,000 estimate.
Among the other highlights of the collection is a Chinese copper-red dragon bowl. It boasts a finely incised and decorated exterior with two striding five-clawed dragons chasing flaming pearls. Measuring 6 inches in diameter, it bears the Kangxi mark and came from an estate collection in Rockville, Maryland, hence to this private collection and is valued at $2,000-$3,000. There is also an exquisite Chinese blue and white bowl, with smooth rounded sides, gracefully rising from a tapered foot to a slightly flared rim. It measures 5 inches in diameter and is painted in muted washes of cobalt blue accented with sharp outlines of a deeper hue. The exterior has three large clusters of melon vines all differently rendered with seven or eight fruits. Its base is inscribed with a six-character reign mark within a double circle and is estimated to bring $2,000-$3,000.
The highest valued item of the Asian session comes from an important New York private collection and is an outstanding Qianlong jade censer with zitan wood stand valued at $60,000-$90,000.
Session Two features the estate portion of the auction and one important entry is a circa 800 BC rare North Persian gold necklace, with red carnelian stones. The necklace is handmade and measures 17 inches long. It has been consigned from a New York collection and is expected to bring between $25,00-$35,000.
A 18th C. Mogul Indian Kundan Kalgi turban gold brooch with assorted precious stones possibly made for the Mogul emperors or the Royal Maharajahs is estimated at $3,000-$4,000.
Other important jewelry in the sale includes a ladies 14 -karat white gold diamond and oval jade ring. The oval jade stone measures approximately 18.61 x 11.90 mm and is surrounded by 36 full cut round brilliant diamonds weighing approximately 3.0 CTW. The ring is accompanied by an appraisal report and is valued at $6000-$10,000.
Also of interest is a loose old European cut diamond stone measuring 8.20-8.36 x 5.39mm with a weight of 2.36 karats, L-M color and SI2 clarity estimated at $6,000-$10,000.
Mid century and modern highlights include two kinetic sculptures by the Venezuela born painter and sculptor Jesus Rafael Soto (1922-2005).
The first on offer is titled "Multiple III" and is from his Jai Alai series. It features black Perspex with steel bars. It bears his incised signature and is edition145/300. The second piece is titled "Petite Vibration Brique et Noire" 1966 and features a silkscreened wooden plate and metal bars with nylon thread. It is edition X/X on the label verso and reads published by "Herausgeg von der Galerie Bischofberger Zurich Reille 1966". Both kinetic sculptures are estimated at $3500-$6500.
Session Two will also feature a selection of over thirty –five rugs including a fine antique Persian Heriz, a Persian Serapi, antique Caucasian Shirvan and Kazak rugs among others.
Glass collectors will find several fine lots of Bohemian glass: a pair of glass Alhambra form vases green with gold decoration measuring 17 ¼ inches by 9 ½ inches, a 19th century Bohemian glass green opaline ewer with silver overlay and hand-painted cupid figures with the gallery labels on the bottom, and an early 19th century Bohemian glass covered urn, green cut-to-clear crystal with gold overlay with a matching goblet. All are valued in the $3,000-$9,000 range.
Silver in the sale features a Cowell and Hubbard Co. "Cleveland" design 6-piece sterling tea set, elaborately hand-chased with approximately 195.0 ounces troy weight in silver and a rare Tiffany & Co. sterling silver compote trophy centerpiece from Honolulu, Hawaii, inscribed "Sam A. Kahanamoku 1939 The Leeds Trophy For the Beach Boys" with approximately 101 ounces troy weight. Samuel Kahanamoku was a great friend of the socialite and philanthropist Doris Duke and an American competition swimmer who represented the US in the 1924 Summer Olympics in Paris.
Of great interest to collectors of marine art and ship models will be a hand built model of the USS Constitution. The ship model is wood construction with a copper sheathed hull mounted on a base. The replica stands 57 inches high by 76 inches long on the base and is valued at $4000-$6000.
Fine art features an oil painting on canvas by the artist Emile Albert Gruppe. The Gruppe comes from a Beverly Farms estate and is a view of "Coolidge Point " on Cape Ann.
Included in the auction is also a collection of autographs from a Beverly estate. The collection includes autographs by General William Sherman, James Longstreet a Confederate General, William Seward, US Secretary of War under President Abraham Lincoln and many signed photographs of politicians, heads of state and foreign dignitaries.
Other eclectic items of interest include a fine Saudi Arabian Jambiya/ Khanjar dagger with gold inlay estimated at $4,000-$7,000 and a Karl Griesbaum German enamel and gilt metal singing bird automaton box, in working order with its key, valued at $3,000-$5,000.
These and all auction lots may be viewed during preview at the Kaminski Auctions gallery, 117 Elliott Street, RT.62, Beverly, Massachusetts on Thursday through Saturday, September 14-16, 10:00am-5:00 pm and on Sunday, September 17th, the day of sale starting at 8:00 am. Preview is open while the auction is live. For more information and to sign up to bid online with KaminskiLIVE go to http://www.kaminskiauctions.com.