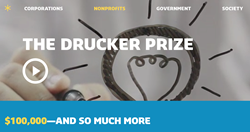 Each of our 10 Drucker Prize finalists has demonstrated an impressive blend of results-driven rigor and human-centric focus.
CLAREMONT, Calif. (PRWEB) August 31, 2017
The Drucker Institute at Claremont Graduate University has named the 10 finalists for the 2017 Drucker Prize. The winning nonprofit organization, to be announced on September 29, will receive $100,000.
The Drucker Institute also has released to the entire social sector all of the content from The Drucker Prize learning platform, including readings featuring the timeless wisdom of Peter Drucker and video insights from some of today's top minds in nonprofit management and leadership. All of this material is now available for free to any interested organization.
The finalists for the 2017 Drucker Prize are:

DataKind, for The Six Components of Data Science for Good data-science tools and techniques for boosting social-sector impact.
Feeding America, for the MealConnect program that uses technology to quickly match food donations to nearby agencies for expedited distribution to those in need.
Humanitarian OpenStreetMap Team, which mobilizes volunteers to create and edit online maps that help responders reach people in need during disasters and other humanitarian crises.
MASS Design Group, for The Catalyst Fund that provides early-stage architectural design grants for the social and public sectors.
mothers2mothers International, for empowering HIV-positive African mothers to mentor newly diagnosed mothers in how to prevent mother-to-child transmission of the virus.
OneJustice, for the Rural Justice Initiative that brings legal services to rural and underserved populations.
SARSEF, for teaching students in Arizona how to make decisions based on data and evidence in order to solve real-world problems.
St. Bernard Project, for its use of the Toyota Production System to manage the volunteer-driven rebuilding of homes damaged or destroyed by disaster.
Sustainable Innovations, for its rainwater-harvesting social enterprise that allow homeowners in India to secure safe water for themselves and their communities.
We Care Solar, for its solar-powered suitcase that provides lighting and electricity for nighttime obstetrical care in the developing world.
The Drucker Institute selected these 10 finalists from among the 50 semifinalists announced on June 16. Leaders from these 50 organizations each completed a series of mini-courses on The Drucker Prize learning platform, where they explored different aspects of innovation and organizational effectiveness. They then reported both how their organization currently utilizes any of the principles presented, as well as how they could put into practice any new ideas they learned.
"As Peter Drucker wrote, 'Successful innovators...look at figures, and they look at people," said Zach First, the Drucker Institute's executive director. "Each of our 10 Drucker Prize finalists has demonstrated an impressive blend of results-driven rigor and human-centric focus. What's more, the leaders of these organizations aren't resting on their laurels; they are hungry for new knowledge they can put to work in service of their missions."
In addition to First, the final judges for the 2017 Drucker Prize are: Cecily Drucker, member of the Drucker Institute's Board of Advisors; Sumita Dutta, managing director at Golden Seeds; Jenny Darroch, Henry Y. Hwang Dean of the Drucker-Ito School of Management; Geneva Johnson, former president and CEO of Family Service America and Families International; Kevin McCoy, president of National Office Furniture; C. William Pollard, chairman emeritus of ServiceMaster Co. and an emeritus member of the Drucker Institute's Board of Advisors; Theresa Reno-Weber, president and CEO of Metro United Way and a member of the Drucker Institute's Board of Advisors; David Styers, manager of program and business development at the Presidio Institute; and Jocelyn Wyatt, co-lead and executive director at IDEO.org
Administered annually since 1991, The Drucker Prize, formerly known as the Peter F. Drucker Award for Nonprofit Innovation, is given to a social-sector organization that demonstrates Drucker's definition of innovation—"change that creates a new dimension of performance." The judges look for programs that are highly effective and have made a difference in the lives of the people they serve, as well as for those organizations that demonstrate a capacity to further leverage the discipline of innovation.
Hailed by Businessweek magazine as "the man who invented management," Peter Drucker not only consulted for major corporations; he also advised the Girl Scouts of the USA, the Red Cross, the Salvation Army and countless other social-sector organizations. He called the nonprofit "America's most distinctive institution."
If you have questions about the application or Drucker Prize process, please contact druckerprize(at)drucker.(dot)nstitute.
About the Drucker Institute
The Drucker Institute is a social enterprise based at Claremont Graduate University. Our mission is strengthening organizations to strengthen society. Our programming—for the corporate, nonprofit and public sectors—is built on a foundation of YESTERDAY/TODAY/MONDAY*. "Yesterday" refers to the fact that our work is grounded in Peter Drucker's timeless wisdom. "Today" speaks to the urgency that we know organizational leaders feel to successfully meet their greatest challenges and opportunities. And "Monday" points to our proven ability to help executives move quickly from ideas to action to results, just as Drucker urged his own consulting clients: "Don't tell me you had a wonderful meeting with me. Tell me what you're going to do on Monday that's different." For more, visit http://www.drucker.institute.
About Claremont Graduate University
Founded in 1925, Claremont Graduate University is one of a select few American universities devoted solely to graduate-level education with more than 2,000 students pursuing graduate degrees in more than 20 distinct areas of study. The university belongs to a consortium of schools in Southern California that includes Pomona College, Pitzer College, Claremont McKenna College, Scripps College, Harvey Mudd College, and Keck Graduate Institute. Students are encouraged to look beyond the traditional disciplinary divisions and define their own unique program of study—CGU's transdisciplinary trademark. CGU's other distinctions include serving as the home of the Peter F. Drucker & Masatoshi Ito Graduate School of Management and the annual Kingsley and Kate Tufts Poetry Awards.