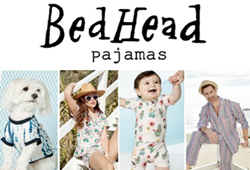 To be able to use a 360 degree engagement model and rapidly increase our revenue per user by 2x for loyalty members is very impressive. - Miguel Duque, Director of Operations at BedHead Pajamas
Sunnyvale, CA (PRWEB) August 30, 2017
Designer sleepwear company BedHead Pajamas was seeking a solution to engage its website visitors and reward its customers for multiple activities. It implemented the loyalty rewards program from Zinrelo with a built-in 360 degree engagement module in order to reward its customers for not only making purchases but also for becoming an email subscriber, sharing a product by email or on Twitter, and referring a friend via Facebook. As a result of rewarding points at multiple touch-points customers at BedHead have accumulated points which they are happily redeeming for gift cards valued at $10, $25, $40 and $60.
When they launched the loyalty program, BedHead decided that the more points a customer earns, the more valuable those points would become. As a result, they introduced tiered redemption options in their loyalty program, starting at 500 points being worth a $10 gift card and leading up to 2,000 points for a $60 gift card.
BedHead also used the program's built-in, real time notifications to ensure that its customers are constantly aware of the points they earn for activities, redemptions and tiers. They further sent out email notifications of the program to its customer base which resulted in an impressive 55% open rate and a click through rate of 18%. The 360 degree engagement process has also led to 69% of enrolled members making a purchase. BedHead is delighted that all the activities implemented have resulted in a highly engaged base of loyalty members, whose revenue per user has risen by 2x since the introduction of Zinrelo loyalty rewards program.
"Zinrelo's loyalty rewards program was quick and easy to set up and is already delivering superb results," commented Miguel Duque, Director of Operations at BedHead Pajamas. "To be able to use a 360 degree engagement model and rapidly increase our revenue per user by 2x for loyalty members is very impressive. Program users are deeply engaged with the BedHead brand, which is precisely what we were looking to achieve."
Zinrelo is an enterprise-grade loyalty rewards program offered as a self-service platform that allows businesses to boost customer engagement based on a flexible, pay as you go pricing model. The omni-channel solution integrates beautifully with existing websites and can be deployed easily for mobile (web and app), desktop and in-store (point of sale) use. The versatile program features customer email notifications, a highly scalable platform and a powerful business rules engine. This allows companies to define their own business rules for each points-earning activity, including number of points, maximum frequency, approval policies, tier qualifications and much more.Businesses can also add custom activities and build their own dashboards.
"We've put our clients' needs at the forefront of every step of the development of the Zinrelo loyalty program," stated Samir Palnitkar, Founder at Zinrelo. "The program integrates easily, is fully customizable and offers a 360 degree, fully flexible approach to boosting customer engagement and loyalty member's revenue. We back this up with ROI-based reporting, so companies can access the effectiveness of implementing the loyalty rewards program instantly."
About BedHead Pajamas:
BedHead Pajamas designs and creates couture loungewear from Los Angeles. The unique collection is in-house created by designers who specialize in textile art. BedHead is currently sold in over 1,500 boutiques worldwide, numerous department stores including Neiman Marcus and Nordstrom's, on the BedHead website, and in the BedHead store in West Hollywood. Visit https://www.bedheadpjs.com/ for more information.
About Zinrelo:
Zinrelo brings you the world's best loyalty rewards and referral programs, helping to maximize revenue per customer and new customer acquisition through 360-degree customer engagement. It supports omni-channel interactions including desktop web, mobile web, mobile apps and in-store engagements.
Zinrelo loyalty rewards program boosts per-customer revenue by 2.4 times and repeat purchases by 80%. It creates fiercely loyal customers that are rewarded for all forms of engagements including purchases, social advocacy, reviews, sign-ups, referrals, photo sharing and more. It is fully customizable and is easy to deploy. Zinrelo referral program delivers a 25% uplift in new customer acquisition by converting your customers into brand ambassadors.
To zing your loyalty and referral programs, contact Zinrelo at http://www.zinrelo.com or info(at)zinrelo(dot)com