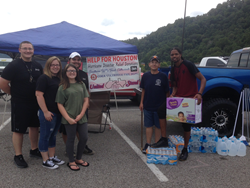 Washington DC (PRWEB) August 31, 2017
Landau Eugene Murphy Jr. joined the Cora Volunteer Fire Department and Southern West Virginia Truck Enthusiasts Thursday to collect and then deliver emergency supplies to flood ravaged Houston area residents. Landau was on site to help collect the donated items Thursday, August 31 at the Logan Walmart Supercenter at Fountain Place Mall, 77 Norman Morgan Blvd. Murphy and members of the Cora Volunteer Fire Department plan to leave for Texas Friday for the 36 hour round trip drive to personally deliver the collected supplies to the Houston area with the help of the American Red Cross.
"Most people in West Virginia know what it's like to deal with the devastation major floods cause. I was blessed to be a part of last year's Rebuild West Virginia telethon with the American Red Cross to help folks right here at home. I've also got a lot of friends in Texas, people who are very important to me and that I owe so much of my good fortune to. My heart breaks for the people down there, and I'm grateful to have this opportunity to help," said Murphy.
Houston holds a very special place in Landau's heart; Grammy winner and Houston native Steve Tyrell produced Landau's debut album on Columbia Records, "That's Life." Many of the vocals for the album were recorded at the world famous Wire Road Studios in Houston and Landau has performed several times in the Houston area. Landau's camp has been in touch with Tyrell's management to offer to assist with future relief efforts there.
You can read more about Landau's CD recording in Houston at: [http://houston.culturemap.com/news/entertainment/09-30-11-americas-got-talent-winner-records-his-million-dollar-cd-in-h-town-with-steve-tyrell/#slide=2 __title__ Landau's CD Recording in Houston]
"We really appreciate Landau and his management team for helping us get the word out about this and even volunteering to help load the truck and drive with the supplies to Texas. It goes to show what kind of guy Landau really is – he cares about people and genuinely wants to help. Think about all the charity work he's done; when he says he wants to give back, he really means it," said Connie Helper with the Cora Volunteer Fire Department.
In addition to monetary donations to purchase emergency supplies, officials with the American Red Cross, the Cora Volunteer Fire Department and Southern West Virginia Truck Enthusiasts requested donations of the following items:

paper plates, paper towels and plastic utensils
baby formula and diapers/wipes
removable top canned food
mops, brooms and other cleaning supplies
general and feminine hygiene products
pet food
The Stollings Post Office will continue to accept donated items until 4pm Friday, September 1 for immediate delivery to Texas.