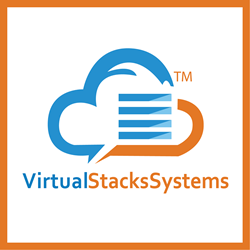 "Why should a new business have to deal with three different companies in order to establish themselves? As a tech company, we can help local businesses open their doors and get new customers, faster."
Lake Mary, Florida (PRWEB) September 01, 2017
Virtual Stacks Systems, a local digital marketing company in Seminole County, recently expanded its digital marketing support and development offerings to further establish itself as a "one-stop-shop" for the technological needs of a growing business
.
This was a direct response to the increasing amount of Central Florida business owners in need of marketing and operational solutions, coming to Virtual Stacks for support and expertise for their growing ventures.
"Local SEO, paid ad campaigns, they are not just for enterprise level organizations anymore," says Virtual Stacks Systems Founder Mahir Abdi. "Why should a new business have to deal with three different companies in order to establish themselves? As a tech company, we can help local businesses open their doors and get new customers, faster."
Virtual Stacks Systems was recently ranked by UpCity as one of the top SEO agencies in Orlando, and their Orlando SEO specialists are some of the top rated in the area.
"We want our customers to be able to grow along with us," says Abdi. "Digital marketing strategy varies from client to client. Through site audits, client meetings, and support lines, we have taken the initiative to make sure we are there every step of the way. This honor reflects our commitment to a personalized digital marketing approach."
Solutions Weight Loss, a medically-supervised weight loss clinic, in Orlando, FL saw an increase in visits to their website, longer time spent on the website and an increase in conversions, thanks to a targeted SEO and Content Marketing strategy.
"I turned to Virtual Stacks for the design and maintenance of my website," says William E. Newsome. Sr., M.D., the Medical Director and Co-Owner of Solutions Weight Loss. "I couldn't be happier with the results. The response has been incredible. I am contacted by people from all over wanting to know more about the services we offer at Solutions Weight Loss!"
The digital marketing team also recently increased the facility's presence on Pinterest, leading to a significant increase in site visits and conversions. Google ranks Solutions Weight Loss as one of the top medically-supervised weight loss facilities in Orlando.
"Targeted digital marketing puts local businesses in front of millions, rather than the hundreds in their local neighborhood," says Abdi. "Success in small business does not require a large budget. It requires a dedicated team that understands your individual needs. That's what Virtual Stacks aims to be."
About Virtual Stacks Systems
Virtual Stacks Systems is a trusted internet marketing company and source for web hosting. Combining 25 years of experience in internet business solutions, Virtual Stacks Systems helps companies build their online presence through Orlando SEO services, ecommerce hosting, cloud solutions, domain registration, custom mobile apps, and more.
Contact Information
Find Virtual Stacks at http://virtualstacks.com or by phone at 877-368-4446.