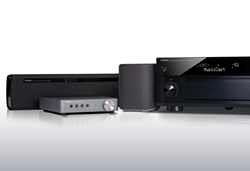 "MusicCast is the most flexible multi-room audio system available today. Whether a consumer wants music and audio solutions that are wired, wireless, or some combination of both, MusicCast offers more solutions for everyone," said Robert Goedken, Yamaha.
SAN DIEGO, CALIF. (PRWEB) September 06, 2017
Yamaha will showcase a wide range of integration enhancements this week at CEDIA 2017, further enhancing the flexibility of its MusicCast multi-room audio system and enabling home-technology integrators to deliver extraordinary home entertainment experiences to their customers.
Key initiatives include the integration of Yamaha products with more industry-leading home-control systems, new remote management capabilities and voice control of multi-room audio via Amazon Alexa.
MusicCast allows a custom integrator to bring together the best of home theater audio with the best of whole home audio. This is often accomplished through the use of a Yamaha AVENTAGE AV receiver in the home theater room and multiple WXA-50 streaming amplifiers powering in-ceiling and outdoor speakers throughout the rest of the home. The integration enhancements on display at CEDIA will provide powerful new ways of controlling and managing the overall system.
"MusicCast is the most flexible multi-room audio system available today," said Robert Goedken, general manager, AV division, Yamaha Corporation of America. "Whether a consumer wants music and audio solutions that are wired, wireless, or some combination of both, MusicCast offers more solutions for everyone. Now, with new control system integration, remote monitoring capabilities and voice control with Amazon Alexa, integrators will find even more ways to amaze their clients with custom-tailored experiences."
The high-performance audio brand will demonstrate its new integration capabilities in CEDIA booth 5135 at the San Diego Convention Center.
Control system integration: The new integration capabilities include compatibility of MusicCast-equipped products with two more brands of IP-based home-control systems: RTI and URC. Availability of control drivers for the two brands' systems is planned for fall. MusicCast drivers for Control4 systems became available earlier this year. The drivers make it easy for custom integrators to integrate Yamaha products with these advanced smart-home systems.
With the integrated solutions, consumers will be able to control Yamaha audio products throughout the house from the same in-wall and tabletop touchscreens that integrate control of a home's lights, motorized shades, smart door locks, security cameras, HVAC systems, and more. Through the touchscreens, consumers will be able to control their MusicCast system, lower the lights, and close the shades with one button press.
The drivers support such MusicCast functionality as linking rooms for simultaneous playback of a music source and accessing a wide variety of audio sources, including music streaming services, Internet radio stations, digital music libraries and TV sound sources. The Control4, RTI and URC touchscreens will display the metadata and album art of streamed and downloaded songs.
In its booth, Yamaha will demonstrate Control4, RTI and URC systems delivering seamless control of Yamaha music and home theater products.
Remote management: Also at the show, Yamaha will demonstrate new remote monitoring and management capabilities for its networked MusicCast products, enabling custom integrators to remotely check the status of products installed in clients' homes and, for many products, adjust settings or perform a network reset. Such remote management capabilities help to reduce costly, time-consuming home visits.
Remote monitoring of product status and remote access help integrators provide world-class support that makes customers happier and more loyal. The capabilities first became available earlier this year. More Yamaha models and remote management features are expected to be added before the end of the year.
Amazon Alexa integration: Yamaha will also unveil and demonstrate its MusicCast skill for Alexa, enabling voice control of key product functions through Alexa-enabled devices, including the Amazon Echo, Echo Dot, Tap and Echo Show. The skill, expected to be available in early October, provides Yamaha dealers with the opportunity to leverage the growing popularity of voice-controlled smart-home systems while making it faster and easier for audio enthusiasts to control their home entertainment experience.
The Alexa skill represents an initial step for integration of Alexa control with Yamaha AV products. Yamaha plans to offer deeper integration of Alexa in AV products by this winter.
The skill delivers voice control of such MusicCast functions as powering products on and off, controlling basic playback functions, selecting playlists, and linking multiple MusicCast products throughout the house for simultaneous playback of a music source. The update will also enable Alexa control of a Yamaha Disklavier ENSPIRE reproducing piano linked to MusicCast devices. This makes it possible for the piano to play beyond the four walls of a single room to any room in the home—even outside—and all controlled by spoken commands.
-END-
About Yamaha
Yamaha Corporation of America (YCA) is one of the largest subsidiaries of Yamaha Corporation, Japan and offers a full line of award-winning musical instruments, sound reinforcement, commercial installation and home entertainment products to the U.S. market. Products include: Yamaha acoustic, digital and hybrid pianos, portable keyboards, guitars, acoustic and electronic drums, band and orchestral instruments, marching percussion products, synthesizers, professional digital and analog audio equipment, Steinberg recording products and NEXO commercial audio products, as well as AV receivers, amplifiers, MusicCast wireless multi-room audio systems, Blu-ray/CD players, earphones, headphones, home-theater-in-a-box systems, sound bars and its exclusive line of Digital Sound Projectors. YCA markets innovative, finely crafted technology and entertainment products and musical instruments targeted to the hobbyist, education, worship, music, professional audio installation and consumer markets.
Contact: Peter Giles/Giles Communications
(914) 798-7120 (pgiles@giles.com)