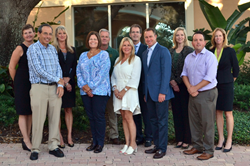 Riviera Beach, FL (PRWEB) September 06, 2017
Suncoast High School Foundation announces the appointment of three new board members to its Board of Directors, as well as the full slate of officers and board members for 2017-2018.
Peter Blatt has accepted the position of President. Mr. Blatt has served on the Board as Vice-President since 2016. Mr. Blatt is President of Blatt Financial Group in Palm Beach Gardens, Florida. He has more than 20 years' experience in the financial industry. He received a bachelor's degree in accounting from Boston University, a law degree and a post doctorate degree in tax from the University of Miami School of Law. Blatt has a successful financial planning practice located at 3399 PGA Boulevard, Suite 320, Palm Beach Gardens, FL 33410. Blatt is an active member of the Florida Bar Association and the former secretary of the Tax Section of the Florida Bar.
Rick Clark is the outgoing President of the Board and was recognized for his 6 years of service. During Mr. Clark's tenure, the Foundation raised more than $750,000 that benefited Suncoast High School students.
The Board also welcomed three new members; Michel DeBock, Tracy Gerber and Bruno Perree. "All three of our newest Board members embody the spirit of community and bring talent, expertise and energy to the table. We are very fortunate to have them by our side as we continue to provide services, experiences and equipment to benefit the students, teachers and faculty at Suncoast Community High School" said Peter Blatt, Board President.
New Board Members:
Michael DeBock, the Foundation's newest Board Member, is currently the Executive Director of Gas Infrastructure for NextEra Energy. Effective August 31, Mr. DeBock will be the President and CEO of the Economic Council of Palm Beach County
DeBock brings both discipline gained as a U.S. Army officer and in-depth corporate experience gained during his tenure at NextEra Energy. DeBock received his military commission upon graduation from United States Military Academy at West Point and served eight years as an Apache helicopter pilot, having logged flight time during peacetime and combat operations. In the private sector, DeBock's experience includes more than 13 years of commercial expertise within NextEra Energy, including developing energy projects across the US, Canada and Europe.
DeBock holds an undergraduate degree from the United States Military Academy and a Master's in Business Administration from Florida Atlantic University. He is a decorated combat veteran.
Tracy Gerber is an attorney and Shareholder for GreenbergTraurig's Palm Beach County offices. She is a member of the firm's National Securities Litigation practice group as well as the National Labor & Employment Practice. Mrs. Gerber represents major broker-dealers in FINRA arbitrations, regulatory proceedings, and state and federal courts. As lead counsel in the defense of financial services firms, she has litigated numerous sales practice and employment cases involving millions of dollars in controversy. Tracy also serves as the Co-Managing Shareholder of the firm's West Palm Beach office.
Gerber holds an undergraduate degree from Tulane University and a JD from the University of Florida Levin College of Law.
Bruno Perree is President of Concord Engineering in Miami, Florida. Mr. Perree holds an undergraduate degree in Engineering and a Master of Business from the University of Miami.
2017-2018 Foundation Board
Officers
Peter Blatt, President
Tracy Gerber, Co-Vice President
Steve Hein, Co-Vice President
Anita "Weezie" Roberson, Treasurer
Ellen Andel, Secretary
Board of Directors
Natalie Carron, Administrator
Richard P. Clark, Ex Officio
Rina Clemens
Michael DeBock
Elizabeth DeWoody
Walter Kamp
Jane Lamp, MD
Deborah Loney-Brown, MD
Mary Meloy, SCHS, President, PTSA
Bruno Perree
Karen Whetsel, SCHS, Principal
Joline Ziemerink-van Tilburg
About Suncoast High School Foundation
The Suncoast High School Foundation, a 501 (c) (3) organization, seeks to sustain and enhance the academic mission Suncoast High School, ranked as one of the best schools in the country. Funds raised by the Foundation provide services, unique experiences and capital equipment that cannot be funded through the School District. In its Ten-Year History, the Foundation has raised more than $1,000,000 to provide extraordinary and successful educational opportunities for the 1,600 talented students who attend annually. For more information about the Foundation, please visit http://www.SuncoastFoundation.org.
# # #