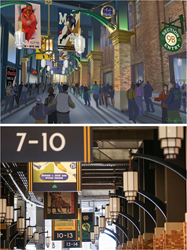 "We needed to bring more of Knute Rockne's stadium scale and warmth into the newer spaces."
Los Angeles, California (PRWEB) September 01, 2017
Notre Dame University recently unveiled their $400 million Campus Crossroads Project that transforms the fabled football stadium of the Fighting Irish and the surrounding areas. Along with three new academic buildings that flank the stadium, the project includes a reimagined Notre Dame Stadium that improves the gameday experience for students, alumni, fans, faculty and athletes.
Working for ADMI, Tim Delaney and Matthew Flynn of Tim J. Delaney Design Inc. crafted a new vision and enhanced guest experience for the 80,000-seat football stadium. The design challenge involved marrying the original, beloved 1930 historical stadium with an incongruent 1997 expansion.
The creative design established by Tim J. Delaney Design Inc. brought more story, history and spirit into the '97 expansion and united the conflicting stadium styles. The comprehensive creative approach included adding extensive historical architectural details, reworking the iconic north end lobby and ramp onto the field, and adding extensive visual placemaking that leveraged the wealth of Notre Dame's visual football history.
The extensive guest areas now highlight the storied history of the University and football team with bold graphics and signage that integrates vintage game programs, game tickets, memorable quotes and iconic school logos. Along with the architectural theming, the transformation included period light fixtures, strategic new stairs and a color scheme for the exposed concrete from the '97 stadium expansion.
The creative team also offered creative solutions to transform cavernous guest ramps, impersonal concourses and problematic concession areas. "We needed to bring more of Knute Rockne's stadium scale and warmth into the newer spaces. In this case the enormous concourses, while serving their purpose, offered an opportunity for us to create a rich entry and exit experience for gameday," said Tim Delaney.
"The guest experience was always our starting point. We offered additional places to enjoy food away from the harsh weather and included strategic screens to the interior ground level concourses that served to create more dramatic hallways and reduce drafts. It also created a hallway of football history," added Matthew Flynn.
The design team from Tim J Delaney also included interior designer Judy Van Wyk, of The Design Studio, who worked with Delaney at Walt Disney Imagineering.
The University also upgraded the stadium with extensive VIP seating, luxury boxes, all new seats, a massive stadium screen and complete WI-FI.
The result is an enhanced Notre Dame Stadium that honors and leverages the past, while creating a one-of-a-kind gameday experience that effectively represents the spirit of Notre Dame University and their legendary football team.
Tim J. Delaney Design is a comprehensive creative design company that helps clients craft a clear vision and immersive story in the realm of experiential design. From resorts, theme parks, hotels, stadiums, retail and mixed-use, they imagine and design memorable and entertaining environments that speak of time, place and story.
See additional coverage here: Indy Star News https://www.google.com/amp/s/amp.indystar.com/amp/560517001