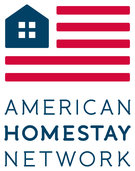 "Homestay is the ideal way to welcome international students to a local community, helping them settle in and feel at home before they start their classes." - Julie Manche, CEO
Redmond, WA (PRWEB) September 01, 2017
The American Homestay Network (AHN-USA) has announced a new expansion to bring the company's world-class services to North Carolina. AHN-USA is the industry leader for homestay in America and specializes in placing international students, study tour groups and professional development program participants in American homes. The company has built its reputation on delivering the highest quality of service for visiting students and their homestay hosts with a focus on safety, support and cultural exchange.
AHN-USA CEO, Julie Manche, said the company's newest region received eight student applications in its first week and is working through more than 500 host applications.
"There's been a fantastic response to our opening and based on the number of local families signing up to become hosts, North Carolina is proving to be a very welcoming place for international students," she said. Mrs Manche said AHN-USA was excited to be offering a new standard of homestay accommodation to high school, ESL, college and university students looking to study in North Carolina. "AHN's expansion has been driven by multiple partnership enquiries from schools throughout North Carolina who want to offer homestay as a housing alternative for their international students," she said. "Homestay is the ideal way to welcome international students to a local community, helping them settle in and feel at home before they start their classes. We're confident we can contribute to the growth of international education in North Carolina by providing world-class homestay solutions across the state."
AHN-USA, an affiliate of the Australian Homestay Network, has worked with government agencies and industry bodies to make international student accommodation safer, better managed and more affordable, improving the student experience and contributing to America's $32.8 billion international education industry. In addition to North Carolina, AHN-USA has regional offices in major Pacific Coast markets as well as Chicago, Florida and the Northeastern USA. The company's global marketing and extensive agent network attracts international students to partner institutions, with a positive flow-on effect for regional economies.
"Homestay is a win-win-win business," Mrs Manche said. "Communities see income coming to local hosts, schools increase their capacity and students feel at home so they're more likely to stay."
CONTACT
Erin Webb
Media Relations – American Homestay Network
ewebb(at)homestaynetwork(dot)org
+61 411 036 280
ABOUT AHN-USA
The American Homestay Network (AHN-USA) is setting a new global standard for homestay. Established in 2012, AHN-USA is based on the values of the Australian Homestay Network (AHN): exceptionally trained hosts offering enriching experiences to international students. The company's network of regional offices supports a pool of hosts and partners who strive to provide international students with a culturally enriching homestay experience in an American home. Together AHN-USA and AHN have placed over 40,000 students from 173 countries with AHN-approved homestay hosts throughout the United States and Australia