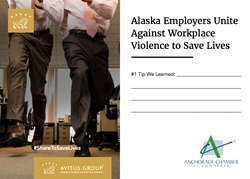 Most active shooter situations start and finish within two minutes. That's not a lot of time to plan. Employers and employees must have a mental emergency plan in place in advance.
Anchorage, Alaska (PRWEB) September 17, 2017
"Most active shooter situations start and finish within two minutes. That's not a lot of time to plan. Employers and employees must have a mental emergency plan in place in advance," says The Growth Company (an Avitus Group Company) Senior Associate Rick Birdsall.
"Workplace violence shatters lives and is something that we all need to work against," says Avitus Group Public Relations Manager Dianne Parker. "We continue to urge all employers to educate their employees on how to identify and prevent workplace violence while doing their best to survive should a tragic event occur at their place of business."
To that end, Avitus Group senior safety consultants are presenting an abbreviated active shooter course at the October 2 Anchorage Chamber of Commerce "Make it Monday" forum in Anchorage, Alaska. Key takeaways include business risk assessments, what managers need to know and the top three things employees need to consider.
"Regardless of which city you live or work, being prepared for unexpected criminal activity is important and can save a life," says Bruce Bustamante, president of the Anchorage Chamber of Commerce. "We appreciate Avitus Group for addressing this issue with our membership and hope that we never have to be in harms way of such a dangerous event."
"We will be teaching the business community critical pieces of information it needs to know to best help them cope in an active shooter situation—from prevention and risk assessment to policies and action plans," says Avitus Group Senior Safety Consultant and Trainer Bill Kane. "There's a lot to digest, but everyone should come out of the course with a basic understanding of Run, Hide and Fight principles lodged securely in their minds."
Avitus Group is also organizing a social media campaign to coincide with the training. It will center on #ShareToSaveLives, and Avitus Group will be asking all employers to share one thing they learned at the training with the business community via social media.
By all accounts, workplace violence is on the rise. The Bureau of Labor Statistics lists homicide as the 4th leading cause of death in the workplace, and in 2015 alone there were 417 workplace homicides reported. Avitus Group's Workplace Violence and Protection Plan: Best Practices guide includes statistics on Alaskan and national workplace violence and accompanies the active shooter course.
"Rick, Scott and Bill offer top-notch training and consulting courses that are an affordable and effective way for local businesses, organizations and schools to learn what to do in what is becoming an all-too-common tragedy across the nation," says The Growth Company President Lynne Curry. "The abbreviated Make it Monday course is a vital introduction to active shooter training for the Alaskan business community."
Presenters at the abbreviated October 2 course include Avitus Group expert Bill Kane as well as Rick Birdsall and Scott Stender of The Growth Company, an Avitus Group company. Bill Kane is a decorated combat veteran who has taught safety and leadership training for over 15 years. Richard Birdsall, Senior Associate, brings over 30 years of law enforcement, legal and competitive shooting experience with particular skill in human resources issues. Scott Stender, Senior Consultant and Trainer, is an organizational and talent development specialist with over 23 years of law enforcement experience, including over 100 real-life active-shooter situations.
Avitus Group is a worldwide company that simplifies, strengthens and grows businesses by providing 'back office' support (payroll, accounting, taxes, recruiting, information technology, human resources and much more). When a business uses Avitus Group, all of the necessary yet burdensome functions of the business become Avitus Group's responsibility, so the business can focus on what it does best. Avitus Group serves clients nationwide through regional office locations from coast to coast. The company also serves international clients through partner locations.