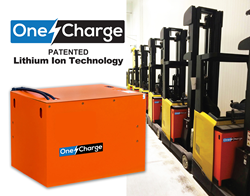 "OneCharge® has the most experience with Lithium battery configurations for forklifts," said Thomas Valentini of GECI
Charlotte, North Carolina (PRWEB) September 12, 2017
Green Energy Concepts, Inc. (GECI) with facilities in Atlanta, GA; Charlotte, NC; and Salem, VA; entered into an exclusive distribution agreement with OneCharge® Lithium Ion Batteries of Irvine, CA. GECI will represent OneCharge® in the Southeastern United States territory.
OneCharge® has been engineering and designing their lithium battery for several years. Based on European technology introduced over 5 years ago, OneCharge® has refined and perfected the technology to fit all major brands of forklifts. "We chose to partner with OneCharge® because they have been developing lithium technology for forklifts longer than all other US lithium battery companies. OneCharge® has the most experience with Lithium battery configurations for forklifts," said Thomas Valentini of GECI.
The OneCharge® lithium ion battery technology cuts charging time in half, requires no maintenance and has a significantly longer lifetime than comparable lead acid batteries, resulting in lowered costs of warehouse equipment. In many facilities that cost savings would mean a 50% reduction in costs. The lithium ion battery will revolutionize warehouse maintenance, with a lifecycle of a minimum of 10 or more years, compared to the current lead acid battery lifespan of 5-7 years.
Patented OneCharge® Battery Equalizer technology actively transfers power between cells, equalizing voltage and making full 100% capacity of the battery available. Battery continues to be operational, even if some cells have lost their ability to store energy, thus making a virtual cell effect. Conventional lithium batteries become inoperable if one of their cells degrades. Another advantage of OneCharge® Active system is extremely low self-discharge (less than 3% per month). This minimizes the need to charge batteries when stored for an extended period of time and is built with protection and switching functionality that is specifically developed for warehouse environment to prevent battery damage.
This technology will be of importance to distribution centers and manufacturing facilities that run 2-3 shifts. As explained on the OneCharge® website:
"The benefit of lithium technology is explained in a real world example in Chicago, IL. Using lithium batteries on 29 truck fleet for a 6 day-per-week operation, will save nearly $400K over 4 years. Reduction of costs is driven by:

Lithium Ion Batteries allows you to inventory only one battery per truck (vs 2 or 3 in traditional lead acid battery setup) this is possible through opportunity charging and consistent full charge times of less than 2 hours.
OneCharge® battery lifetime is twice as long as that of lead-acid and gel batteries.
No battery room or maintenance. Savings on equipment of battery room, wages for maintenance personnel and outsource maintenance contracts."
More information about the OneCharge® benefits may be found on the Green Energy Concepts, Inc. website: http://www.geciproducts.net/onecharge/
About Green Energy Concepts, Inc. (GECI): Green Energy Concepts, Incorporated (GECI) is a leader in the design, manufacture and delivery of motive power charger technology. The GECI Diamond Charger Series® offers advanced high frequency, multi-frequency and control flux chargers designed to produce the highest power factor with proven power savings while reducing the carbon footprint. GECI also represents leading technology for motive power applications and is a distributor of the OneCharge® Lithium Ion Battery and Tubular Batteries and Modular Chargers.
For more information, contact: Thomas Valentini, 877-812-4309 or via tvalentini(at)geciproducts(dot)net.