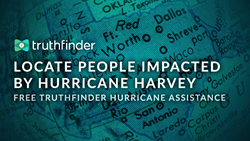 At the core of our company culture, TruthFinder seeks to make a positive impact in communities by volunteering, supporting and getting involved in numerous important causes around San Diego. We are happy to extend those efforts to help individuals in need
San Diego, CA (PRWEB) September 01, 2017
TruthFinder, an online public records aggregator, is providing complimentary reports to those impacted by the aftermath of Hurricane Harvey. The online platform pulls detailed background and contact information from a massive public records database, which can be accessed by searching an individual's name, address, email or phone number.
Hurricane Harvey hit the Gulf Coast early Saturday with winds over 100 mph and devastating floods in some areas. The American Red Cross prepared over 70 shelters to support over 30,000 potentially displaced people.
Shortly after the flooding began, TruthFinder's San Diego-based call center began receiving phone calls from people who were seeking contact details for those impacted by the hurricane's path of destruction. One customer, Lois, stated that she used TruthFinder to pull a woman's contact information after finding her wallet in a Houston grocery store. The wallet contained cash, debit cards, and a driver's license. "She lives, according to me looking up her address, in a major flood zone," Lois said, "and I'm sure she was either trying to make a getaway out of Houston or go to stay with some relatives. I feel horrible that this woman is without what she needs most in a time of desperate need."
When affected individuals continued to alert member care agents of the need for the product in the area, the company quickly organized a task force to put a free offering in place to help. One complimentary TruthFinder people finder report is available to anyone seeking information about those impacted by Hurricane Harvey.
TruthFinder's President Steven Gray states, "At the core of our company culture, TruthFinder seeks to make a positive impact in communities by volunteering, supporting and getting involved in numerous important causes around San Diego. We are happy to extend those efforts to help individuals in need during this difficult time in the Texas and Louisiana area."
Individuals who need to use the people finder service to aid in relief efforts can enable report access by visiting TruthFinder's Hurricane Harvey webpage.
ABOUT TRUTHFINDER
TruthFinder is an online service that provides public record, people finder and criminal record information to members on a subscription basis. TruthFinder utilizes data from state, federal and various local sources, which have been aggregated and made available electronically.
TruthFinder's user-friendly reports compile public records describing people living in the U.S. Some of the databases that TruthFinder utilizes include state sex offender information, county arrest records, court dockets, census records and various other public records. TruthFinder does not provide consumer reports, nor is it a consumer-reporting agency, and it may not be used for consumer credit, insurance, employment, tenant screening or any other purpose subject to the Fair Credit Reporting Act (FCRA). For the latest updates and information, please visit TruthFinder's member care website.