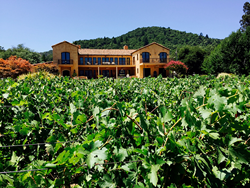 "From the location, to the decadent details in design and the renowned winery, Vinatieri's villa is a one-of-a-kind offer on the market."
(PRWEB) September 01, 2017
International real estate brand, Engel & Völkers, proudly introduces Pat Vinatieri's Napa Valley villa to the luxury market. With a family name meaning "winemaker" and "wine of the earth," it comes as no surprise that Vinatieri's vineyard estate is not only a beautiful site to see, but also encompasses a bountiful business of wines, sought after on a global scale.
"This is a property unlike any other," express Advisors Amber Kandarian and Ryan Styles of Engel & Völkers Long Beach and Sonoma County. "From the location, to the decadent details in design and the renowned winery, Vinatieri's villa is a one-of-a-kind offer on the market."
Nestled between the Mandavi Mountains and sprawled across two premium acres of a Bordeaux blend vineyard, the estate's perfect setting and striking views are unmatched. The spacious 3-bedroom, 4-bathroom home boasts a chef's kitchen, signature fireplaces, radiant marble flooring, expansive windows, computer-operated lighting, a gorgeous circular stairway leading to an exquisite underground wine cellar, and even numerous secret passageways to be discovered throughout the home.
"I am truly proud to be behind this once-in-a-lifetime type opportunity coming to market," says home and vineyard owner, Pat Vinatieri. "It has been a privilege sharing my love of wine first with my family and friends, then growing it into an internationally acclaimed business, from my very own home. I look forward to passing this exceptional project on."
The stunning 6085 Solano Avenue is currently listed at $4,933,333. For a virtual tour, please visit https://vimeo.com/230364775.
About Engel & Völkers
Since its establishment in 1977 as a specialty boutique providing exclusive, high-end real estate services in Hamburg, Germany, Engel & Völkers has become one of the world's leading companies specializing in the sale and lease of premium residential and commercial property and yachts. Engel & Völkers currently operates a global network of real estate advisors in more than 700 residential brokerages and 75 commercial offices spanning 36 countries across 4 continents, offering both private and institutional clients a professionally tailored range of luxury services. It established its North America corporate headquarters in 2007 and opened its first brokerage in the same year. Committed to exceptional service, Engel & Völkers supports its advisors with an array of premium quality business services, marketing programs and tools, multiple platforms for mobile, social and web, as well as access to its global network of real estate professionals, property listings and market data.
For more information please contact:
Sheela Shouhed
Director of Communications
Sheela.Shouhed(at)evusa(dot)com