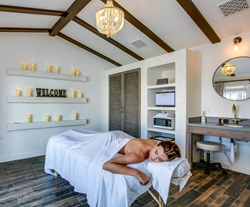 Palm Springs boutique hotels offer spa-mazing pampering services, from facials to massages to body treatments.
PALM SPRINGS, California (PRWEB) September 01, 2017
Staying in a boutique hotel is always a special experience. But staying at one with spa services takes relaxation and escape to an entirely different level. In fact, this fall, some of the finest spa services in Southern California can be found inside Palm Springs legendary boutique hotels.
Tranquil and calming, Whispers at La Serena Villas is a retreat where outside worries melt away. Guests must silence their phones and speak in a whisper, ensuring everyone has a stress-free experience. The spa has several signature services, including a facial, customized for every client to restore complexion vitality. Other standouts include the Whispers of Warmth Stone Massage, a deeply-relaxing heat therapy, and the Treat Your Feet add-on, a 30-minute reflexology treatment that also exfoliates. A couple's room is available upon request. Whispers at La Serena Villas, 339 S. Belardo Road, Palm Springs. 844-932-8044
Wellness-minded travelers looking for relaxation and rejuvenation will find it at The Monkey Tree Hotel, home to the only Scandinavian spa in Palm Springs. A Scandinavian spa offers a hydrotherapy experience like none other — visitors alternate between hot and cold to alleviate stress, soothe tired muscles, and eliminate toxins. The Monkey Tree Hotel's facility allows guests to spend their day cycling through a newly-built dry sauna and hot and cold plunge pools at no additional cost. For those looking for some extra pampering, the hotel can arrange in-room massages with 24-hours notice. The Monkey Tree Hotel, 2388 E. Racquet Club Road, Palm Springs. 760-322-6059
Get balanced at L'Horizon's The Spa an indoor-outdoor experience. Before a treatment, guests are invited to relax inside The Spa's white canvas cabanas, and afterwards, they can rinse off using private outdoor showers. There are four treatment rooms and a juice bar, with services including massages, facials, body treatments, and aromatherapy. The Enhancements and Enrichments add-ons are just as exciting — who doesn't want to follow up their massage with a Wild Lime Scalp Treatment that stimulates circulation and relieves tension. Or include a facial with Eye Contour, which reduces puffiness, under eye discoloration, and the appearance of fine lines and wrinkles. L'Horizon's The Spa, 1050 E. Palm Canyon Drive, Palm Springs. 760-323-1858
Yoga enthusiasts and newbies can spend their Sunday mornings at the Moroccan-style Korakia Pensione participating in complimentary yoga sessions. These classes begin at 8:30 a.m. and provide guests the opportunity to start their day off centered, calm, and illuminated. Each class is tailored towards students' abilities. Private sessions are also available for a fee and can be arranged at the front desk. Weather permitting, meditation sessions are offered on property. Massages using all natural skin products can be booked for the Korakia's indoor/outdoor spa lodge or in room. Their most-loved treatments include the Hot Bamboo Massage, Eucalyptus Rock Massage, and Aloe Lavender Body Wrap. Korakia Pensione, 257 S. Patencio Road, Palm Springs. 760-864-6411
The Andreas Hotel & Spa offers a delightful escape for guests, local residents, and visitors staying at neighboring hotels. Massages include the classic Swedish, Warm Stone, and Lymphatic, and the spa is known for several signature facials — the Ageless Facial, Age Later Face Lift, Oxygen Facial, Clear Cell, or Gent's Facial. Book a solo treatment or one of the spa's packages for couples — the Paradise for Two includes champagne, fresh fruit, Image facials, and therapeutic massages, while the Romance Andreas Style features mineral soaks, therapeutic massages, and clay body masques. Body treatments, nail, and waxing services are also available. The Spa at Andreas, 130 Andreas Road East, Palm Springs. 760-325-0900
The pristine Men's Spa at La Dolce Vita Resort and Spa is a standout in the desert. All of the therapists are male, and have been certified by the state of California. They have designed their massages, facials, and body treatments specifically for men, with specialties including the Sweet Life Massage, a full-body massage using a combination of Swedish, deep tissue, and pressure point techniques, and the Romeo and Romeo Couples Massage. Visitors are also welcome to either come early or stick around after their treatments to use the property's two swimming pools, whirlpools, and steam room. La Dolce Vita Resort and Spa, 1491 S. Via Soledad, Palm Springs. 760-325-2686
Relaxation is the name of the game at East Canyon Hotel and Spa. The resort primarily caters to gay clientele and is not clothing optional, and has a fully-licensed spa, with trained therapists offering soothing facials, massages, and body treatments. Under new ownership, the spa is being refreshed and upgraded. East Canyon Resort and Spa, 288 E. Camino Monte Vista, Palm Springs. 760-320-1928
There's no better way to unwind than by staying at Palm Springs small hotel with spa services. Discover more by visiting http://palmspringspreferredsmallhotels.com/ or Facebook to explore a unique collection of over seventy independently owned small hotels – several of which offer unforgettably relaxing spa services that can be invigorating or relaxing, a quiet retreat or an energizing pick-me-up.
#PSPSH #visitpalmsprings #stayauthentic